Nikon D70 Digital Field Guide
ISBN: 978-0-7645-9678-0
272 pages
August 2005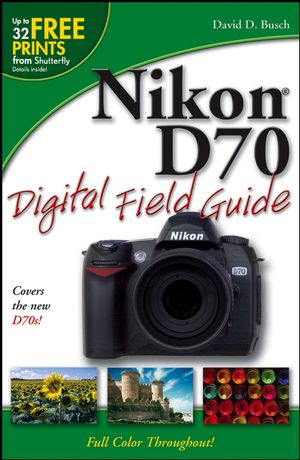 Congratulations! You have one of the most versatile, feature-rich digital SLRs on the market, and this full-color guide helps you make the most of it. Learn how to set up your Nikon D70 or D70s and adjust it for every subject and circumstance. Get professional advice on choosing lenses, composing more than twenty-five types of shots, even downloading and displaying your photos.
Wherever your imagination takes you, take this book along.
Use the Quick Tour to get the feel of your camera right away
Shift easily between semi-automatic and manual modes
Work with flash and available lighting to achieve different effects
Explore special lenses like macro, vibration reduction, and teleconverters
Discover the secrets of perfect action, business, portrait, or nature photography
Make downloading and editing problem-free
See More
Acknowledgments.
Introduction.
Quick Tour.
Part I: Using the Nikon D70.
Chapter 1: Exploring the Nikon D70.
Chapter 2: Setting Up Your D70.
Part II: Creating Great Photos with the Nikon D70.
Chapter 3: Photography Basics.
Chapter 4: Working with Light.
Chapter 5: All About Lenses.
Chapter 6: Photo Subjects.
Chapter 7: Downloading and Editing Pictures.
Glossary.
Index.
See More
David D. Busch is a prolific writer on all things photography-related. From humble beginnings as a newspaper photographer, David went on to become a PR consultant for a major photographic company and operate his own studio. He is the author of Digital Photography For Dummies Quick Reference and coauthor of Photoshop 7 All-in-One Desk Reference For Dummies, also published by Wiley.
See More