E-book
Unofficial Guide to Getting a Divorce, 2nd Edition
ISBN: 978-0-7645-9765-7
432 pages
April 2005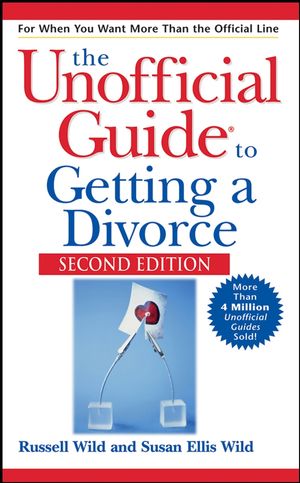 The inside scoop... for when you want more than the official line!

Sad. Mad. Scared. Stressed. Distraught. Distracted. Overwhelmed. Divorce dredges up so many emotions and entails so many financial and legal issues, it's difficult to stay rational and keep your life on track. This savvy, updated guide empowers you to take constructive steps toward a better future. It leads you through preparing for divorce, the process, legal issues, coping, sticky situations, and post-divorce financial and health-care issues. It tells you things attorneys and other advisors may not, and gives unbiased recommendations for negotiating the tricky issues of divorce while keeping your sanity.
* Vital Information to help you protect your interests in a divorce or in dealings with your future ex, attorneys, financial advisors, and more.
* Insider Secrets for moving from "I do" to "I don't" with harmony, intelligence, and grace.
* Money-Saving Techniques to reduce legal fees and court costs.
* Time-Saving Tips to help you resolve your divorce without going to court.
* The Scoop on the Latest Trends and precedents in spousal and child support, pre-nups, and more to help you set realistic expectations.
* Handy Checklists to help you do everything from setting priorities to telling the children to dividing property
See More
About the Authors.
Introduction.
What's in This Book?
How This Book Is Different.
How to Use This Book.
How to Be a Savvy Consumer.
How to Keep Your Sanity During the Process.
Special Features.
Part I: Smart Preparation for Divorce.
1. Is This Really the End of the Marriage?
2. Setting Up a Successful Divorce: The First Steps.
3. Making the Best of It.
Part II: When War Seems Imminent.
4. Before You See an Attorney.
5. Choosing Your Lawyer.
Part III: Welcome to the U.S. Court System.
6. Filing for Divorce.
7. The Discovery Process.
8. The Final Steps Toward Resolution.
Part IV: Big Issues You Can't Escape.
9. Family Values.
10. The Children's Hour.
11. What Will I Live On?
Part V: The Aftermath: Coping Well.
12. Surviving the Ordeal.
13. We All Need Help Sometimes.
Part VI: Surviving Sticky Situations.
14. Spouse and Family Discord.
15. Special Circumstances.
16. Considerations Beyond the Horizon.
Part VII: Post-Divorce Money and Health Issues.
17. Mastering Your Finances.
18. Who'll Pay the Doctor Bills?
A. Glossary.
B. Resource Guide.
C. Recommended Reading List.
D. Important Checklists.
E. Assembling Your Divorce Team.
Index.
See More
RUSSELL WILD, MBA, financial planner, and SUSAN ELLIS WILD, JD, litigation attorney, have the professional and personal expertise to write this book. Married for 22 years and the parents of two children, they are now amicably divorced. Russell is the principal of Global Portfolios, a fee-only financial planning firm in Allentown, Pennsylvania. He has also authored or co-authored nearly two dozen nonfiction books, writes regularly about financial issues for national consumer magazines as well as financial trade journals, and has appeared on Oprah, The View, and other popular programs. Susan is an honors graduate of George Washington University Law School and has practiced law for 24 years. She has frequently been appointed by the courts to serve as an independent arbitrator/mediator of cases.
See More