Napoleon For Dummies
ISBN: 978-0-7645-9798-5
388 pages
October 2005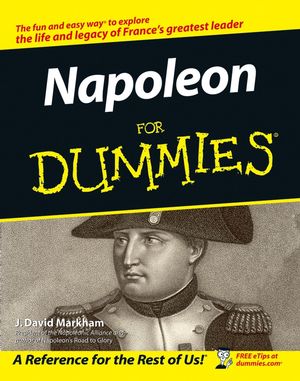 Explains his influence on the military, law, politics, and religion

Get the real story of Napoleon Bonaparte

Not sure what's true about Napoleon? This easy-to-follow guide gets past the stereotypes and introduces you to this extraordinary man's beginnings, accomplishments, and famous romances. It traces Napoleon's rise from Corsican military cadet to Emperor of the French, chronicles his military campaigns, explains the mistakes that led to his removal from power, and explores his lasting impact on Europe and the world.

Discover
* How Napoleon built -- and lost -- an empire
* The forces that influenced him
* Why he created the Napoleonic Code
* The inside story on Josephine
* How he helped shape modern-day Europe
See More
Introduction.
Part I: Beginnings.
Chapter 1: Why Remember Napoleon?
Chapter 2: Raising a Genius.
Chapter 3: The French Revolution: Liberty, Equality, Fraternity.
Chapter 4: Moving into the Limelight.
Chapter 5: Josephine!
Part II: Building an Empire.
Chapter 6: Improvising an Army in Italy.
Chapter 7: Mixing Art, Science, and Guns in Egypt.
Chapter 8: Gaining Control of France.
Chapter 9: Winning His Greatest Victories.
Chapter 10: Conquering a Continent.
Part III: Losing an Empire.
Chapter 11: Sailing into Disaster with the British.
Chapter 12: Bleeding in Spain.
Chapter 13: Reeling from Russia.
Chapter 14: Defeat and Resurrection.
Chapter 15: Waterloo.
Chapter 16: St. Helena: Napoleon's Final Island.
Part IV: A True Revolutionary.
Chapter 17: Marshalling a Great Army.
Chapter 18: Sustaining Support at Home.
Chapter 19: Building a Greater (Middle Class) France.
Chapter 20: Attempting a Dynasty.
Part V: Influencing Nations: Diplomacy and Legacy.
Chapter 21: Boney Times with the Brits.
Chapter 22: Creating a New United Europe.
Chapter 23: Religious Freedom and Jewish Liberation.
Part VI: The Part of Tens.
Chapter 24: Ten Interesting Battlefields to Visit.
Chapter 25: Ten Pieces of Advice for Napoleon.
Chapter 26: Ten (Plus) Best Sources for Further Information.
Appendix A: Napoleonic Timeline.
Appendix B: Maps of Napoleonic Europe.
Index.
See More
J. David Markham is an internationally acclaimed historian and Napoleonic scholar. His major books include Napoleon's Road to Glory: Triumphs, Defeats and Immortality (winner of the 2004 Napoleonic Society of America Literary Award); Imperial Glory: The Bulletins of Napoleon's Grande Armée (winner of the International Napoleonic Society's 2003 President's Choice Award); and Napoleon and Dr. Verling on St. Helena. He has been featured on the History Channel International's Global View program on Napoleon, the History Channel's Conquerors program (Napoleon's Greatest Victory; Caesar in Gaul) and Napoleon: The Man Who Would Conquer Europe, as well as in programs on the Learning and Discovery channels. He has served as historical consultant to History Channel and National Geographic Society programs. Markham has contributed to four important reference encyclopedias (Leadership; World History; American Revolution; French Revolution and Napoleon). He has presented numerous academic papers to conferences in the United States, the UK, France, Italy, Israel, Georgia, and Russia. He is President of the Napoleonic Alliance and Executive Vice-President and Editor-in-Chief of the International Napoleonic Society. David has organized International Napoleonic Congresses in Italy, Israel, the Republic of Georgia, and France. He was the first American scholar to present a paper at the Borodino Conference in Russia. His awards include the Legion of Merit from the International Napoleonic Society, the President's Medal from the Napoleonic Alliance, and the Marengo Medal from the province of Alessandria, Italy.
See More