Teach Yourself VISUALLY Scrapbooking
ISBN: 978-0-7645-9945-3
304 pages
March 2006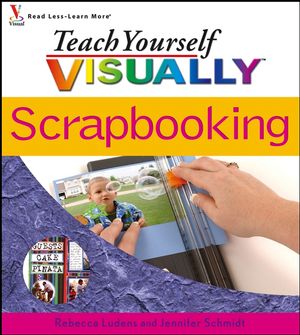 Plain or fancy, formal or fun, chronicling special events or everyday moments, scrapbooks are the perfect, personal way to preserve precious memories and create lasting keepsakes. This visual guide walks you through choosing albums and papers, organizing and cropping photos, and more, and explains step-by-step essential techniques like journaling, designing appealing pages, and using embellishments to add pizzazz. The layout gallery gives you great ideas for travel, family, heritage, and other pages, while a chapter on organizing your stuff helps you keep everything in its place.
Concise two-page lessons show you all the steps to a skill and are ideal for quick review
Each skill or technique is defined and described
Detailed color photos demonstrate each step
Step-by-step instructions accompany each photo
Helpful tips provide additional guidance
See More
Chapter 1: Getting Started.
Why Scrapbook?
Scrapbooking with Children.
Themes for Children's Scrapbooks.
Choose Your Album.
Album Sizes.
Types of Paper.
Cut It Up.
Choose Adhesives.
Tools for Journaling.
Chapter 2: Your Photos.
Take Better Photos.
Enlarge Your Photos.
Add Text to Photos.
Repair Damaged Photos.
Crop Your Photos—Before and After.
Crop to Include More Photos.
What Not to Crop.
Organize Your Photos.
Chapter 3: Create a Scrapbook Page.
The Basics of a Layout.
Create a Focal Point.
Get Started Journaling.
Embellish Your Layout.
Chapter 4: Select Colors for Your Scrapbook Pages.
Use a Color Wheel.
Create a Mood with Color.
Rule of Thumb for Color Use.
Complement Your Photos.
Chapter 5: Matting Essentials.
Matting Basics.
Six Quick Mats.
Multiple Photos on One Mat.
Combo Mats.
Embellished Mats.
Chapter 6: Journaling Styles.
Journal on Vellum.
Journal on Transparencies.
Journal on Tags.
Photos as Journaling Pockets.
Add Text with a Label Maker.
Matchbook Journaling.
File Folder Journaling.
Library Pocket Journaling.
Chapter 7: Designing from Page Plans.
What Is a Page Plan?
Scrapbooking from a Page Plan.
Where to Find Page Plans.
Bonus Plans and Layouts.
Chapter 8: Title Tricks.
Use Lettering Templates.
Sticker Letters.
Sticker Letter Emergency.
Die-Cut Titles.
Die-Cut Shaker Titles.
Tag Shaker Titles.
Painted Chipboard Titles.
Rubber Stamping Titles.
Bleached Titles.
Metal Lettering.
Brad Rub-On Lettering.
Clay Letters.
Stencil Paste Letters.
Die-Cutting Fabric, Cork, and More.
Chapter 9: Paper Techniques.
Paper Tearing.
Geometric Borders.
Serendipity Squares.
Inking.
Chalking.
Paper Piecing.
Sewing on Paper.
Sewn Vellum Journaling Boxes.
Vellum 3-D Flowers.
Vellum Envelope.
Chapter 10: Three-Dimensional Embellishments.
Eyelets.
Folded Photo Mat.
Brads.
Slide Mounts.
Silk Flowers.
Fibers.
Stitching with Floss.
Printing on Textures.
Household Embellishments.
Chapter 11: Working with Wire.
Craft Wire Basics.
Basic Tools.
Straightening Wire.
Making a Loop.
Tight Spirals.
Loose Spirals.
Simple Wire Embellishments.
Wire Words.
Attaching Wire.
Beaded Dragonfly.
Beaded Flower.
Chapter 12: Get Organized.
Bring-It-Along Storage.
Paper Storage.
Make Your Own Storage Cubes.
Pegboard Wall Storage.
Embellishment Storage.
Make Your Fiber Organizer Cards.
Chapter 13: Mini and Theme Scrapbooks.
Basic Mini-Books.
Mini-Books on Scrapbook Pages.
Tag Albums.
Envelope Mini-Books.
Accordion Scrapbooks.
Paper Bag Albums.
Container Books.
Chapter 14: Photo Inspiration.
Photo Backgrounds.
Photos on Transparencies.
Photos on Fabric.
Mosaic Scrapbook Pages.
Editing Overall Photo Color.
Spot Color Technique.
Chapter 15: Layout Gallery.
Appendix: Resource List and Patterns.
Index.
See More
Rebecca Ludens
is the Scrapbooking guide for About.com, where she writes weekly feature articles, product reviews, and how-tos. She has made numerous appearances on the TV show
DIY Scrapbooking
.
Jennifer Schmidt has had pages featured in scrapbooking magazines and displayed on DIY Scrapbooking. Both have designed for leading scrapbooking manufacturers and are sought-after speakers at conventions around the United States.
See More
Buy Both and Save 25%!
Teach Yourself VISUALLY Scrapbooking (US $24.99)
-and- Sewing For Dummies, 3rd Edition (US $19.99)
Total List Price: US $44.98
Discounted Price: US $33.73 (Save: US $11.25)
Cannot be combined with any other offers. Learn more.