Access Forms and Reports For Dummies
ISBN: 978-0-7645-9965-1
408 pages
September 2005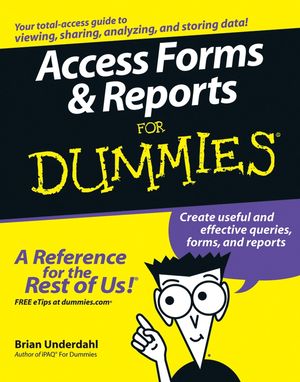 Create queries that make forms and reports useful

Develop forms to access the data you need and make reports that make sense!

If you thought you had to use a spreadsheet program to produce reports and forms, guess what! Access can turn out great-looking forms and reports that actually show what's going on with your data -- if you know how to ask it nicely. This hands-on guide helps you do just that, and it works with all versions of Access.

Discover how to
* Ask Access the right questions
* Work with sets of data
* Create simple forms with a wizard
* Use queries to create new tables
* Troubleshoot queries
* Add visual features to reports
See More
Introduction.
Part I: Accessing Both Ends: Getting Data In and Info Out.
Chapter 1: Getting to Know Forms and Reports.
Chapter 2: Getting Started with Queries.
Chapter 3: Creating Simple Forms.
Chapter 4: Building Basic Reports.
Part II: Creating Effective Queries.
Chapter 5: Creating Multi-Table Queries.
Chapter 6: Modifying Data with Queries.
Chapter 7: Expanding Queries with SQL.
Chapter 8: Dealing with Quarrelsome Queries.
Part III: Building Really Useful Forms.
Chapter 9: Building Better Forms by Using Controls.
Chapter 10: Using Multiple Tables in Forms.
Chapter 11: Fixing Form Faults.
Part IV: Designing Great Reports.
Chapter 12: Adding Fancy Touches to Reports.
Chapter 13: Creating Reports that Summarize Data.
Chapter 14: When Reports Go Wrong.
Part V: Way Cool Advanced Queries, Forms, and Reports.
Chapter 15: Tricks for Finding Data with Queries.
Chapter 16: Tricks for Updating with Queries.
Chapter 17: Killer Ways to Improve Forms.
Chapter 18: Expert Methods for Sharing Reports.
Chapter 19: Making Reports Look Better.
Chapter 20: Adding Efficiency with Great Tools.
Part VI: The Part of Tens.
Chapter 21: Ten Great Access Sites Online.
Chapter 22: Ten Things to Know About Queries (That Also Help You with Forms and Reports).
Index.
See More
Brian Underdahl is the well-known, best selling author of over 70 computer books on a broad range of subjects. He has appeared on a number of TV shows, including the Computer Chronicles, and several TechTV programs, and is the subject of an hour-long interview on the syndicated Computer Outlook radio program. One of his titles was recently recommended to viewers by Scott Gurvey, Bureau Chief, on the Nightly Business Report on PBS, and his books have won awards including an Award of Merit from the Northern California Technical Communications Competition and the Referenceware Excellence Award for best title in the Graphic Design and Multimedia category.
Brian has been involved in personal computers from their beginning and has a background in electrical engineering. His last "real" job was as a Senior Programmer/Analyst for a large company, where he worked hard to bring the power and freedom of PCs to the desktops.
Brian figures that it's the author who should do the work so that readers can get their money's worth. That's why his books are different — he takes the time to explain what's going on so that readers can understand the subjects easily.
See More