Information Highways and Byways: From the Telegraph to the 21st Century
ISBN: 978-0-7803-1073-5
326 pages
March 1995, Wiley-IEEE Press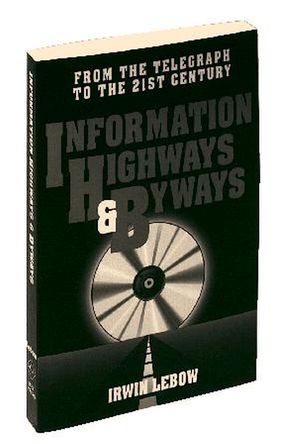 Spanning the entire history of electrical communications, this book tells the story of the many events and breakthroughs that took place from the creation of the telegraph 150 years ago to the dynamic modern, world of the Internet and interactive TV. As a veritable case study in how advances in technology cause societal and industrial change, this story provides insight into the current turmoil in the information and entertainment industries. Its characters include the technologists, the entrepreneurs, the litigators, anti-trust lawyers, and regulators who influenced the course of progress. This book will be of interest to anyone who has a stake in the information age.
See More
Preface.

Acknowledgments.

Introduction.

WIRING UP THE WORLD.

"The American Leonardo".

Expanding the Neighborhood.

The Telegraph and the News.

The Telegraph Goes to War.

Transmitting the Human Voice.

Universal Service.

Establishing Telephone Service.

Extending the Personal Presence.

COMMUNICATION WITHOUT WIRES.

Through the Ether.

The Wireless Goes to Sea.

World War I and Its Aftermath.

The Origins of Broadcasting.

Radio Broadcasting Captures the Nation.

Video Enters the Picture.

The Power of the Picture.

The Wireless Makes a Comeback.

Communication via Space.

THE COMMUNICATION/COMPUTING SYMBIOSIS.

The Computer Makes Its Appearances.

The Transistor.

The Chip.

A "Computer on a Chip".

The Gregarious Computer.

The Aftermath of the ARPANET.

Speeding Up the Written Word.

ON THE WAY TO THE NEXT CENTURY.

Digitizing the Telephone System.

Computers in the Network.

A Natural Monopoly?

The End of Monopoly?

Blurring Traditional Lines.

The Video Scene.

An Information Infrastructure for the Twenty-First Century.

The Way to the New Infrastructure.

Notes.

Index.
See More
Learn more about