Power Electronics and Variable Frequency Drives: Technology and Applications
ISBN: 978-0-7803-1084-1
Hardcover
660 pages
October 1996, Wiley-IEEE Press
US $202.00

Add to Cart
This price is valid for United States. Change location to view local pricing and availability.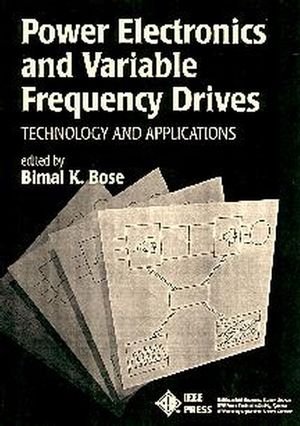 This is a Print-on-Demand title. It will be printed specifically to fill your order. Please allow an additional 5-6 days delivery time. The book is not returnable.
Preface.
Acknowledgments.
Introduction to Power Electronics and Drives (Bimal K. Bose, University of Tennessee, USA).
Chapter 1 Power Semiconductor Devices for Variable Frequency Drives (B. J. Baliga, North Carolina State University, USA)
1.1 INTRODUCTION.
1.2 BASIC VARIABLE SPEED DRIVE.
1.3 POWER MOSFET.
1.4 INSULATED GATE BIPOLAR TRANSISTOR.
1.5 POWER RECTIFIERS.
1.6 MOS-GATEDTHYRISTORS.
1.7 NEW SEMICONDUCTOR MATERIALS.
1.8 DEVICE COMPARISON.
1.9 SMART POWER CONTROL CHIPS.
2.0 CONCLUSION.
References.
Chapter 2 Electrical Machines for Drives (GR Slemon, University of Toronto, Canada)
2.1 INTRODUCTION.
2.2 MOTOR REQUIREMENTS FOR DRIVES.
2.3 COMMUTATOR MOTORS.
2.4 INDUCTION MOTORS.
2.5 SYNCHRONOUS PERMANENT MAGNET MOTORS.
2.6 SWITCHED OR TRAPEZOIDAL PM MOTORS.
2.7 SYNCHRONOUS RELUCTANCE MOTORS.
2.8 PM RELUCTANCE MOTORS.
2.9 SWITCHED RELUCTANCE MOTORS.
2.10 WOUND FIELD SYNCHRONOUS MOTORS.
2.11 LINEAR MOTORS.
2.12 CONCLUSION.
Chapter 3 Power Electronic Converters for Drives (J. D. van Wyk, Rand Afrikaans University, South Africa).
3.1 INTRODUCTION.
3.2 DEVELOPMENT OF POWER ELECTRONIC CONVERTERS AND ITS APPLICATION TO DRIVE TECHNOLOGY.
3.3 SOME FUNCTIONAL CONSIDERATIONS REGARDING SWITCHING CONVERTERS AND THEIR APPLICATIONS TO VARIABLE FREQUENCY DRIVES.
3.4 POWER ELECTRONIC CONVERTERS FOR CONTROL OF AMPLITUDE.
3.5 POWER ELECTRONIC CONVERTERS FOR AC VARIABLE FREQUENCY DRIVES.
3.6 SWITCH APPLICATIONS TECHNOLOGY.
3.7 FUTURE CONVERTER DEVELOPMENT IN RELATION TO ELECTROMAGNETICS.
3.8 CONCLUSION.
Chapter 4 Pulse Width Modulation for Electronic Power Converters (J. Holtz, Wuppertal University, Germany).
4.1 INTRODUCTION.
4.2 DC-T0-AC POWER CONVERSION.
4.3 AN INTRODUCTION TO SPACE VECTORS.
4.4 PERFORMANCE CRITERIA.
4.5 OPEN LOOP SCHEMES.
4.6 CLOSED LOOP PWM CONTROL.
4.7 MULTILEVEL CONVERTERS.
4.8 CURRENT SOURCE INVERTER.
4.9 CONCLUSION.
Chapter 5 Motion Control with Induction Motors (R.D. Lorenz, T.A. Lipo, D.W.Novotny, University of Wisconsin, USA).
5.1 INTRODUCTION.
5.2 INVERTERS FOR ADJUSTABLE SPEED.
5.3 MOTION CONROL SYSTEMS.
5.4 FIELD ORIENTATION (FO) CONTROL PRINCIPLES FOR INDUCTION MOTORS.
5.5 CURRENT REGULATORS FOR MOTION CONTROL WITH FO-IM.
5.6 ADVANCED FLUX AND TORQUE REGULATION METHODS FOR MOTION CONTROL WITH FO-IM.
5.7 SELF-COMMISSIONING AND CONTINUOUS SELF-TUNING FOR FO-IM.
5.8 CONCLUSION.
Chapter 6 Variable Frequency Permanent Magnet AC Machine Drives (M. Jahns, General Electric Co., USA).
6.1 INTRODUCTION.
6.2 PMAC MACHINE CONTROL FUNDAMENTALS.
6.3 TRAPEZOIDAL PMAC MACHINE CONTROL.
6.4 SINUSOIDAL PMAC MACHINE CONTROL.
6.5 ADVANCED CONTROL TECHNIQUES.
6.6 PMAC DRIVE APPLICATION ISSUES.
6.7 CONCLUSION.
Chapter 7 High Power Industrial Drives (H. Stemmler, Swiss Federal Institute of Technology, Switzerland).
7.1 INTRODUCTION.
7.2 CLASSIFICATION WITH SPEED AND POWER RATINGS.
7.3 SHORT REVIEW OF THE EVOLUTION OF LARGE DRIVES.
7.4 MOTORS FOR LARGE DRIVES.
7.5 CONVERTERS FOR LARGE DRIVES.
7.6 SYNCHRONOUS MOTORS, FED BY EXTERNALLY C0MMUTATED CURRENT SOURCE CONVERTERS.
7.7 INDUCTION MOTORS FED BY CURRENT SOURCE CONVERTERS.
7.8 THE CYCLOCONVERTER-FED SYNCHRONOUS MOTOR.
7.9 LARGE VOLTAGE SOURCE INVERTER DRIVES.
7.10 SLIP POWER-CONTROLLED DRIVES.
7.11 CONCLUSION.
Chapter 8 Simulation of Power Electronic and Motion Control Systems (N. Mohan, W. P. Robbins, L A. Aga, M. Rastogi, R. Naik, University of Minnesota, USA).
8.1 INTRODUCTION.
8.2 SIMULATION IN THE DESIGN PROCESS.
8.3 FREQUENCY DOMAIN VERSUS TIME DOMAIN ANALYSIS.
8.4 CHALLENGES IN SIMULATION.
8.5 CLASSIFICATION OF SIMULATION TOOLS AND HISTORICAL OVERVIEW.
8.6 ISSUES IN NUMERICAL SOLUTION.
8.7 OVERVIEW OF SOME WIDELY USED SIMULATION PROGRAMS.
8.8 OVERVIEW OF SIMULATOR CAPABILITIES BY EXAMPLES.
8.9 POWER SEMICONDUCTOR DEVICE MODELS FOR CIRCUIT SIMULATION.
8.10 CONCLUSION.
Chapter 9 Estimation, Identification, and Sensorless Control of AC Drives (K. Ohnishi, Keio University; N. Matsui, Nagoya Institute of Technology; Y. Hori, University of Tokyo; Japan).
9.1 INTRODUCTION.
9.2 PARAMETER ESTIMATION IN AC DRIVES.
9.3 SENSORLESS DRIVES OF AC MOTORS.
9.4 ROBUST MOTION CONTROL BY ESTIMATION OF MECHANICAL PARAMETERS.
9.5 CONCLUSION.
Chapter 10 Microprocessors and Digital ICs for Control of Power Electronics and Drives (H. Le-Huy, Laval University, Canada).
10.1 INTRODUCTION.
10.2 MICROCOMPUTER CONTROL OF POWER ELECTRONIC SYSTEMS.
10.3 MICROCOMPUTER BASICS.
10.4 REAL-TIME CONTROL USING MICROCOMPUTERS.
10.5 MICROCONTROLLERS.
10.6 ADVANCED MICROPROCESSORS FOR CONTROL OF POWER ELECTRONIC SYSTEMS.
10.7 ASICS FOR CONTROL OF POWER ELECTRONIC SYSTEMS.
10.8 DESIGN OF MICROPROCESSOR-BASED CONTROL SYSTEMS.
10.9 DEVELOPMENT TOOLS.
10.10 APPLICATION EXAMPLES.
10.11 CONCLUSION.
Chapter 11 Expert System, Fuzzy Logic, and Neural Networks in Power Electronics and Drives (B. K. Bose, University of Tennessee, USA).
11.1 INTRODUCTION.
11.2 EXPERT SYSTEM.
11.3 FUZZY LOGIC.
11.4 NEURAL NETWORK.
11.5 SUMMARY.
11.6 GLOSSARY.
References.
Index.
Biography of Dr. Bose.