Time Frequency and Wavelets in Biomedical Signal Processing
ISBN: 978-0-7803-1147-3
Hardcover
768 pages
November 1997, Wiley-IEEE Press
US $243.00

Add to Cart
This price is valid for United States. Change location to view local pricing and availability.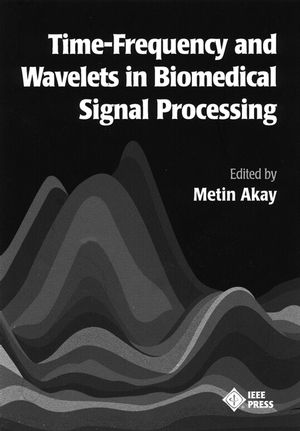 This is a Print-on-Demand title. It will be printed specifically to fill your order. Please allow an additional 5-6 days delivery time. The book is not returnable.
List of Contributors.
Preface.
TIME-FREQUENCY ANALYSIS METHODS WITH BIOMEDICAL APPLICATIONS.
Recent Advances in Time-Frequency Representations: SomeTheoretical Foundation (W. Williams).
Biological Applications and Interpretations of Time-Frequency Signal Analysis (W. Williams).
The Application of Advanced Time-Frequency Analysis Techniques to Doppler Ultrasound (S. Marple, et al.).
Analysis of ECG Late Potentials Using Time-Frequency Methods (H. Dickhaus & H. Heinrich).
Time-Frequency Distributions Applied to Uterine EMG: Characterization and Assessment (J. Duchene & D. Devedeux).
Time-Frequency Analyses of the Electrogastrogram (Z. Lin and J. Chen).
Recent Advances in Time-Frequency and Time-Scale Methods (C. Mello & M. Akay).
WAVELETS, WAVELET PACKETS, AND MATCHING PURSUITS WITH BIOMEDICAL APPLICATIONS.
Fast Algorithms for Wavelet Transform Computation (O. Rioul & P. Duhamel).
Analysis of Cellular Vibrations in the Living Cochlea Using the Continuous Wavelet Transform and the Short-Time Fourier Transform (M. Teich, et al.).
Alterative Processing Method Using Gabor Wavelets and the Wavelet Transform for the Analysis of Phonocardiogram Signals (M. Matalgah, et al.).
Wavelet Feature Extraction from Neurophysiological Signals (M. Sun & R. Sclabassi).
Experiments with Adapted Wavelet De-Noising for Medical Signals and Images (R. Coifman & M. Wickerhauser).
Speech Enhancement for Hearing Aids (J. Rutledge).
From Continuous Wavelet Transform to Wavelet Packets: Application to the Estimation of Pulmonary Microvascular Pressure (M. Karrakchou & M. Kunt).
In Pursuit of Time-Frequency Representation of Brain Signals (P. Durka & K. Blinowska).
EEG Spike Directors Based on Different Decompositions: A Comparative Study (L. Senhadji, et al.).
WAVELETS AND MEDICAL IMAGING.
A Discrete Dyadic Wavelet Transform for Multidimensional Feature Analysis (I. Koren & A. Laine).
Hexagonal QMF Banks and Wavelets (S. Schuler & A. Laine).
Inversion of the Radon Transform under Wavelet Constraints (B. Sahiner & A. Yagle).
Wavelets Applied to Mammograms (W. Richardson).
Hybrid Wavelet Transform for Image Enhancement forComputer-Assisted Diagnosis and Telemedicine Applications (L. Clarke, et al.).
Medical Image Enhancement Using Wavelet Transform and Arithmetic Coding (P. Saipetch, et al.).
Adapted Wavelet Encoding in Functional Magnetic Resonance Imaging (D. Healy, et al.).
A Tutorial Overview of a Stabilization Algorithm for Limited-Angle Tomography (T. Olson).
Wavelet Compression of Medical Images (A. Manduca).
WAVELETS, NEURAL NETWORKS, AND FRACTALS.
Single Side Scaling Wavelet Frame and Neural Network (Q. Zhang).
Analysis of Evoked Potentials Using Wavelet Networks (H. Heinrich & H. Dickhaus).
Self-Organizing Wavelet-Based Neural Networks (K. Kobayashi).
On Wavelets and Fractal Processes (P. Flandrin).
Fractal Analysis of Heart Rate Variability (R. Fischer & M. Akay).
Index.
Editor's Biography.