Social, Ethical, and Policy Implications of Engineering: Selected Readings
ISBN: 978-0-7803-4712-0
354 pages
September 1999, Wiley-IEEE Press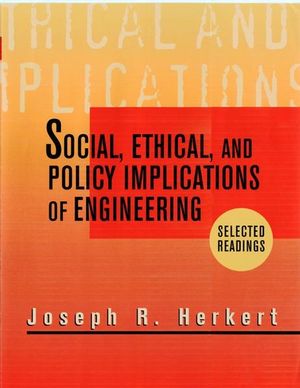 "In SOCIAL, ETHICAL, AND POLICY IMPLICATIONS OF ENGINEERING, engineers, faculty, and students will find an informative guide to the professional, societal, and ethical responsibilities that face practicing engineers today. Through an integrated approach to the theory of engineering ethics and practical real-world issues, this comprehensive book offers readers an in-depth analysis of technology's current social role.

Drawing on readings and case studies first published in IEEE Technology and Society Magazine, this easy-to-read text will develop readers' understanding of the important issues surrounding ""macroethical"" public policy debates, including discussions of sustainable development, public health, risk and product liability, and telecommunications. These cases and readings also provide an opportunity to apply the theory in real-world situations.

SOCIAL, ETHICAL, AND POLICY IMPLICATIONS OF ENGINEERING will help students meet the new accreditation criteria for engineering adopted by the Accreditation Board for Engineering and Technology (ABET). In addition, contemporary issues presented in this far-reaching book will allow students and practicing engineers to gain greater insight into how social and ethical concerns shape contributions to the engineering field.

For more information and related articles go towww4.ncsu.edu/unity/users/j/jherkert/jrh.html

Professors: To request an examination copy simply e-mail collegeadoption@ieee.org."

Sponsored by:
IEEE Social Implications of Technology Society
See More
Preface.

Acknowledgments.

TECHNOLOGY, ENGINEERING, AND SOCIETY.

Technology, Values, and Society.

The Social Context of Engineering.

SOCIAL AND ETHICAL RESPONSIBILITIES OF ENGINEERS.

Moral Dilemmas in Engineering.

Frameworks for Engineering Ethics.

ENGINEERING ETHICS AND PUBLIC POLICY.

Technology Policy and Ethical Issues.

Risk and Product Liability.

Engineering and Sustainable Development.

Engineering in a Global Context.

Technology and Health Care.

Information Technology.

Appendix.

Author Index.

Subject Index.

About the Editor.
See More
Joseph R. Herkert is assistant professor of Multidisciplinary Studies at North Carolina State University where he teaches in the Science, Technology and Society Program and is director of the Benjamin Franklin Scholars Program—a dual degree program in engineering and humanities/social sciences. He also holds an associate appointment in the Department of Electrical and Computer Engineering. Dr. Herkert has published papers in IEEE Technology and Society Magazine, IEEE Transactions on Education, Technological Forecasting and Social Change, Science and Engineering Ethics, and the Journal of Professional Issues in Engineering Education and Practice. He has served as guest editor of special issues for Social Science Computer Review and The Journal of Electronic Publishing. Dr. Herkert is a past president of the IEEE Society on Social Implications on Technology (SSIT) and currently serves as publications chair of SSIT and editorial board chair of IEEE Technology and Society Magazine.
See More
Learn more about