Power System Restoration: Methodologies & Implementation Strategies
ISBN: 978-0-7803-5397-8
690 pages
June 2000, Wiley-IEEE Press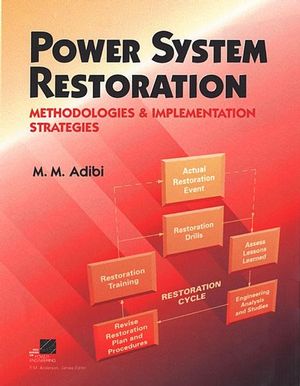 "At a time when bulk power systems operate close to their design limits, the restructuring of the electric power industry has created vulnerability to potential blackouts. Prompt and effective power system restoration is essential for the minimization of downtime and costs to the utility and its customers, which mount rapidly after a system blackout.

Power System Restoration meets the complex challenges that arise from the dynamic capabilities of new technology in areas such as large-scale system analysis, communication and control, data management, artificial intelligence, and allied disciplines. It provides an up-to-date description of the restoration methodologies and implementation strategies practiced internationally. The book opens with a general overview of the restoration process and then covers:
* Techniques used in restoration planning and training
* Knowledge-based systems as operational aids in restoration
* Issues associated with hydro and thermal power plants
* High and extra-high voltage transmission systems
* Restoration of distribution systems

Power System Restoration is essential reading for all power system planners and operating engineers in the power industry. It is also a valuable reference for researchers, practicing power engineers, and engineering students."

Sponsored by:
IEEE Power Engineering Society
See More
Preface.

RESTORATION OVERVIEW.

RESTORATION TECHNIQUES.

RESTORATION PLANNING.

RESTORATION TRAINING.

SPECIFIC SYSTEM RESTORATION.

DISTRIBUTION SYSTEM RESTORATION.

Author Index.

Subject Index.

About the Editor.

About the Authors.
See More
M. M. Adibi has spent over 49 years in the service of the electric power industry assuming various responsibilities: manufacturing and testing of heavy electrical equipment: operation and maintenance of large thermal power plants; power system planning in charge of developing 10-year construction programs for several utilities; and development of engineering and operation computer applications. As the president of IRD Corporation. Mr. Adibi conducted and participated in a number of research and development projects related to power system and power plant operation, and advanced network functions. Mr. Adibi is the founder and chair of the IEEE System Restoration Working Group and is the principal author of 23 IEEE Transactions papers on restoration issues. In 1995 Mr. Adibi received the IEEE Power Engineering Society's prize for his paper, "Power System Restoration Planning." He is a Life Fellow of the IEEE.
See More
Learn more about