Wireless Video Communications: Second to Third Generation and Beyond
ISBN: 978-0-7803-6032-7
1092 pages
March 2001, Wiley-IEEE Press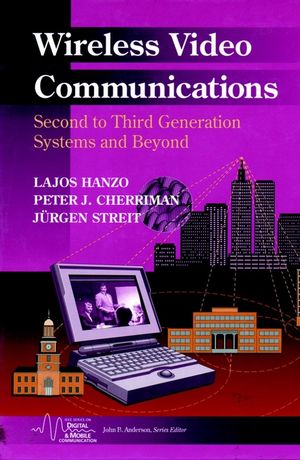 Bridging the gap between the video compression and communication communities, this unique volume provides an all-encompassing treatment of wireless video communications, compression, channel coding, and wireless transmission as a joint subject. WIRELESS VIDEO COMMUNICATIONS begins with relatively simple compression and information theoretical principles, continues through state-of-the-art and future concepts, and concludes with implementation-ready system solutions.
This book's deductive presentation and broad scope make it essential for anyone interested in wireless communications. It systematically converts the lessons of Shannon's information theory into design principles applicable to practical wireless systems. It provides in a comprehensive manner "implementation-ready" overall system design and performance studies, giving cognizance to the contradictory design requirements of video quality, bit rate, delay, complexity error resilience, and other related system design aspects.
Topics covered include
information theoretical foundations
block-based and convolutional channel coding
very-low-bit-rate video codecs and multimode videophone transceivers
high-resolution video coding using both proprietary and standard schemes
CDMA/OFDM systems, third-generation and beyond adaptive video systems.
WIRELESS VIDEO COMMUNICATIONS is a valuable reference for postgraduate researchers, system engineers, industrialists, managers and visual communications practitioners.
See More
Preface.
Acknowledgments.
Contributors.
I. Transmission Issues.
1. Information Theory.
2. The Propagation Environment.
3. Convolutional Channel Coding.
4. Block-Based Channel Coding.
5. Modulation and Transmission Techniques.
6. Video Traffic Modeling and Multiple Access.
7. Co-Channel Interference.
8. Channel Allocation.
9. Second-Generation Mobile Systems.
10. CDMA Systems: Third-Generation and Beyond.
II. Video Systems Based on Proprietary Video Codecs.
11. Fractal Image Codecs.
12. Very Low Bit-Rate DCT Codes.
13. VQ Codecs and Multimode Video Transceivers.
14. Low Bit-Rate Parametric Quad-Tree-Based Codecs and Multimode Videophone Transceivers.
III. High-Resolution Image Coding.
15. Low-Complexity Techniques.
16. High-Resolution DCT Coding.
IV. Video Systems Based on Standard Video Codecs.
17. An ARQ-Assisted H.261-Based Reconfigurable Multilevel Videophone System.
18. Comparison of the H.261 and H.263 Codecs.
19. A H.263 Videophone System for Use over Mobile Channels.
20. Error Rate Based Power Control.
21. Adaptive Single-Carrier, Multicarrier, and CDMA-based Video Systems.
Glossary.
Bibliography.
Subject Index.
Author Index.
About the Authors.
See More
Lajos Hanzo
has enjoyed a prolific 24-year career during which he has held various research and academic positions in Hungary, Germany, and the United Kingdom. He has coauthored five books on mobile radio communications and published over 300 research papers on a variety of topics. Dr. Hanzo's research interests cover the entire spectrum of mobile multimedia communications, including voice, audio, video and graphic source compression, channel coding, modulation, networking and the joint optimization of these system components. He holds a chair in communications in the Department of Electronics and Computer Science at the University of Southampton, England, and he is a consultant to Multiple Access Communications Ltd.
Peter J. Cherriman graduated in 1994 with an M.Eng. In information engineering from the University of Southampton. Since 1994, he has been with the Department of Electronics and Computer Science at the University of Southampton, where he completed his Ph.D. in mobile video networking. Dr. Cherriman is working on projects for the Mobile Virtual Centre of Excellence, U.K. His current areas of research include robust video coding, microcellular radio systems, power control, dynamic channel allocation, and multiple access protocols.
Jurgen Streit received his Diploma in electronic engineering from the Aachen University of Technology, Germany, in 1993. Since 1992 he has been with the Department of Electronics and Computer Science at the University of Southampton, working with the Mobile Multimedia Communications Research Group. Dr. Streit earned a Ph.D. in image coding, and he is currently working as a software consultant.
See More
Learn more about