The 5-Minute Veterinary Consult Canine and Feline Specialty Handbook: Ophthalmology
ISBN: 978-0-7817-7063-7
306 pages
August 2005, Wiley-Blackwell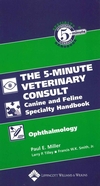 Designed for quick reference in the clinic examination room, this compact, easy-to-use handbook provides practical guidance on diagnosis and treatment of over 40 ophthalmologic problems seen in dogs and cats. Topic entries are written by the foremost specialists in veterinary ophthalmology and follow The 5-Minute Consult format that is so popular among busy practitioners. Topics are organized alphabetically so that readers can quickly find the information they need. This timely new resource covers a wide range of canine and feline ophthalmologic conditions, including third eyelid protrusion, glaucoma, and optic neuritis. A twenty-page insert features full-color images depicting various disorders and ophthalmic procedures.
See More
Anisocoria.
Anterion Uveitis--Cats.
Anterior Uveitis--Dogs.
Blepharitis.
Blind Quiet Eye.
Cataract.
Chorioretintis.
Collie Eye Anomaly.
Congenital Ocular Anomalies.
Conjunctivitis--Cats.
Conjunctivitis--Dogs.
Corneal and Scleral Lacerations.
Corneal Degenerations and Infiltrations.
Corneal Dystropies.
Ectropion.
Entropion.
Epiphora.
Episceleritis.
Eyelash Disorders (Trichiasis/Distichiasis/Ectropic Cilia).
Glaucoma.
Horner's Syndrome.
Hyphema.
Hypopyon and Lipid Flare.
Iris Atrophy.
Keratitis, Nonulcerative.
Keratitis. Ulcerative.
Keratoconjunctivitis Sicca.
Lens Luxation.
Ophthalmia Neonatorum.
Optic Neuritis.
Orbital Diseases (Exophthalmos, Enophthalmos, Strabismus).
Papilledema.
Prolapsed Gland of Third Eyelid (Cherry Eye).
Proptosis.
Red Eye.
Retinal Degeneration.
Retinal Detachment.
Retinal Hemorrhage.
Third Eyelid Protrusion.
Uveal Melanoma--Cats.
Uveal Melanoma--Dogs.
See More
Paul E. Miller, DVM; Larry P. Tilley, DVM; Francis W.K. Smith, Jr., DVM
See More