Mastering Visual Basic.NET Database Programming
ISBN: 978-0-7821-2878-9
Paperback
704 pages
March 2002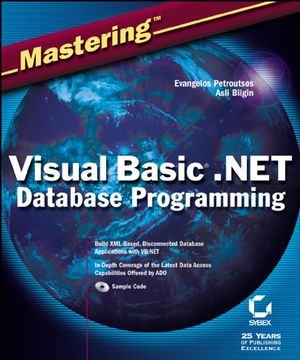 This title is out-of-print and not currently available for purchase from this site.
Other Available Formats:
E-book
Introduction.
Part 1: Database Concepts.
Chapter 1: Database Access: Architectures and Technologies.
Chapter 2: Basic Concepts of Relational Databases.
Chapter 3: The Visual Database Tools.
Chapter 4: Structured Query Language.
Part 2: Database Programming.
Chapter 5: Transact-SQL.
Chapter 6: A First Look at ADO.NET.
Chapter 7: ADO.NET Programming.
Chapter 8: Data-Aware Controls.
Chapter 9: Working with DataSets.
Chapter 10: The Role of XML.
Part 3: Advanced Data Services.
Chapter 11: More ADO.NET Programming.
Chapter 12: Integration with XML.
Chapter 13: The Middle Tier.
Chapter 14: Advanced SQL Server 2000 Features.
Part 4: Data Access From the Web.
Chapter 15: Introducing ASP.NET.
Chapter 16: The Web Data Controls.
Chapter 17: Working with WebServices.
Chapter 18: VS .NET Deployment Considerations.
Appendix A: Sample Projects.
Index.