PMP: Project Management Professional Study Guide, 3rd Edition
ISBN: 978-0-7821-3601-2
592 pages
September 2005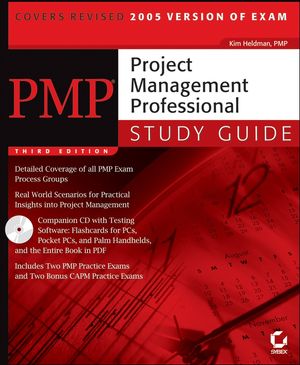 Whether you're a current project manager seeking to validate the skills and knowledge acquired through years of practical experience or a newcomer to the PM field looking to strengthen your resume, the PMP certification from the Project Management Institute (PMI) provides you with the means to do so. This new edition of the best-selling PMP: Project Management Professional Study Guide covers the 2005 updates to both the Project Management Body of Knowledge (PMBOK) and the PMP exam. Author Kim Heldman presents the material in a clear and accessible manner, taking you through the process groups in their logical order so you understand the parts and the whole equally well.
KEY TOPICS INCLUDE:
Project Initiation. Determining project goals, determining deliverables, determining process outputs, documenting constraints, documenting assumptions, defining strategies, producing formal documentation.
Project Planning. Refining a project, creating a WBS, developing a resource management plan, determining resource requirements, defining budgets, refining time and costs estimates, establishing project controls, obtaining plan approval.
Project Execution. Committing and implementing resources, managing and communicating progress, implementing quality assurance procedures.
Project Control. Measuring performance, refining control links, taking corrective action, evaluating effectiveness of corrective action, ensuring plan compliance, reassessing control plans, responding to risk event triggers, monitor project activity.
Project Closing. Obtaining acceptance of deliverables, documenting lessons learned, facilitating closure, preserving product records and tools, releasing resources.
Professional Responsibility. Ensuring integrity, contributing to knowledge base, balancing stakeholder interests, respecting differences.
See More
Introduction.
Chapter 1: What Is a Project?
Chapter 2: Creating the Project Charter and Preliminary Scope Statement.
Chapter 3: Developing the Project Scope Statement.
Chapter 4: Creating the WBS and Communicating the Plan.
Chapter 5: Risk Planning.
Chapter 6: Resource Planning.
Chapter 7: Creating the Project Schedule and Budget.
Chapter 8: Developing the Project Team.
Chapter 9: Measuring and Controlling Project Performance.
Chapter 10: Monitoring and Controlling Change.
Chapter 11: Controlling Work Results and Closing Out the Project.
Chapter 12: Professional Responsibility.
Glossary.
Index.
See More
Kim Heldman (Boulder, CO), PMP, MBA, is the Director of the IT Project Management Office for the Colorado Department of Revenue and is a member of the Denver chapter of PMI.
See More
This unbeatable test-prep guide is now updated to reflect the new PMP certification exam version, which incorporates changes to the PMI's Project Management Body of Knowledge
Enhanced case studies and new practice questions
The CD-ROM, packaged with every book, features four bonus exams–two for the PMP and two for the Certified Associate in Project Management–plus a testing engine, flashcards, and an e-book.
Each chapter includes key terms and review questions
See More
| Download Title | Size | Download |
| --- | --- | --- |
| Bonus Appendix A: Process Inputs and Outputs | 1.69 MB | Click to Download |
See More
Do you think you've discovered an error in this book? Please check the list of errata below to see if we've already addressed the error. If not, please submit the error via our Errata Form. We will attempt to verify your error; if you're right, we will post a correction below.
Chapter
Page
Details
Date
Print Run
107
Text
On page 107 the sentence "If push comes to shove during the project planning process, time might have to give because quality cannot" should be corrected to read instead as "If push comes to shove during the project planning process, quality might have to give because time cannot."
11-07-2005
266
Error in Table 7.1


Page 266: Table 7.1. The floats of activity number 2 and 3 should be 67 instead of 68

3-26-2007
CD Bonus Exams
n/a
CD-ROM Bonus Exam 2 Question 56
The formula shown in the answer to the question is the formula for typical variances.

In order to make the answer, "C 1333," consistent with the question and the formula in the explanation of the answer, append to the question the sentence
"You expect these variances to continue."
5/25/07
5
188
Text Error in Real World Scenario
In the second-to-last bullet, "Mainframe connection," the probability is given as "high"
It should be "medium," so the line reads "Mainframe connection=medium"
7/26/07
4
139
Text Correction
Line 17 under Communications Planning Inputs (first sentence of third paragraph):
"The project scope management plan..."
should read
"The project scope statement..."
7/27/07
See More
Learn more about