Mastering Java 2, J2SE 1.4
ISBN: 978-0-7821-4022-4
Paperback
928 pages
May 2002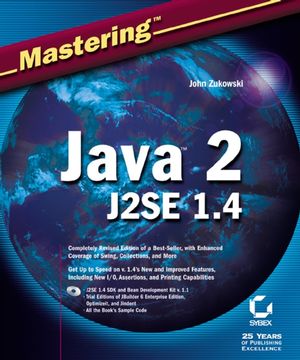 This title is out-of-print and not currently available for purchase from this site.
Other Available Formats:
E-book
Introduction.
Part 1: Foundations of Java.
Chapter 1: Introducing Java.
Chapter 2: Getting Started with the Java 2 SDK.
Chapter 3: Working with Objects.
Chapter 4: Datatypes, Modifiers, and Expressions.
Chapter 5: Packaging Class and Interface Access.
Chapter 6: Arrays and Flow-Control Statements.
Chapter 7: Exception Handling and Assertions.
Chapter 8: Threads and Multithreading.
Part 2: Exploring the Java Libraries.
Chapter 9: Standard Java Packages.
Chapter 10: Animation and Images.
Chapter 11: 2D Graphics and Imaging.
Chapter 12: GUI Layout Management.
Chapter 13: Swing GUI Components.
Chapter 14: Event Handling.
Chapter 15: Advanced Swing Capabilities.
Chapter 16: Transferring Data.
Chapter 17: Java Utilities.
Chapter 18: Advanced Applet Programming.
Chapter 19: Streams and Input/Output Programming.
Chapter 20: Printing.
Chapter 21: JavaBeans.
Chapter 22: Network Programming.
Chapter 23: Java Extension Libraries.
Appendix A: Java Language Syntax.
Appendix B: Online Resources.
Glossary of Terms.
Index.