Final Cut Pro 3 and the Art of Filmmaking
ISBN: 978-0-7821-4027-9
Paperback
396 pages
April 2002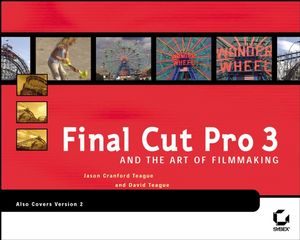 This title is out-of-print and not currently available for purchase from this site.
Introduction.
Chapter 1: Setting Up Your Workstation.
Chapter 2: Getting to Know Final Cut Pro.
Chapter 3: Creating Your Footage.
PART I: GETTING STARTED.
Chapter 4: Logging Your Footage.
Chapter 5: Capturing Your Footage.
Chapter 6: Working with Your Footage.
Chapter 7: Making Smart Edits.
PART II: EDITING YOUR MOVIE.
Chapter 8: Adding Transitions.
Chapter 9: Adding Titles.
Chapter 10: Using Image Control.
PART III: ADDING SPECIAL EFFECTS.
Chapter 11: Manipulating the Image.
Chapter 12: Compositing and Alpha Channels.
Chapter 13: Using Motion Controls.
PART IV: ADVANCED TECHNIQUES.
Chapter 14: Creating Special Effects with Key Filters.
Chapter 15: Fine-Tuning Your Audio.
Chapter 16: Making Keyframes Work for You.
Chapter 17: Putting It All Together.
Chapter 18: Managing Your Media.
PART V: AFTER THE EDITING IS DONE.
Chapter 19: Printing to Video.
Chapter 20: Compressing Video for the Web, CDs, and DVDs.
Glossary of Terms.
Index.
Using the Companion DVD.