i-Net+ Study Guide: Exam IK0-002, 2nd Edition
ISBN: 978-0-7821-4028-6
656 pages
April 2002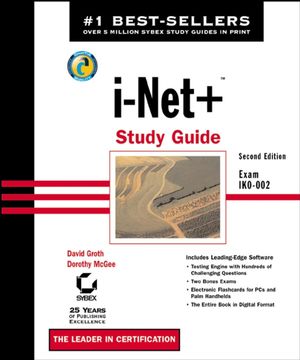 Here's the book you need to prepare for CompTIA's i-Net+ Exam.
This Sybex Study Guide provides:
Full coverage of every exam objective
Practical information on network hardware
Hundreds of challenging review questions, in the book and on the CD
Leading-edge exam preparation software, including a testing engine and electronic flashcards
Authoritative coverage of all exam objectives, including:
Internet Basics
Web Site Development
Performance Monitoring
Networking Fundamentals
Internet Security
E-Business Concepts
Note: CD-ROM/DVD and other supplementary materials are not included as part of eBook file.
See More
IntroductionxxiAssessment Test.
Chapter1 i-Net+ Networking Basics.
Chapter2 Internet Basics.
Chapter3 Protocols.
Chapter4 Internet Clients And Their Configuration.
Chapter5 Network Security.
Chapter6 Internet Development.
Chapter7 Internet Site Functionality Design.
Chapter8 Internet Troubleshooting.
Chapter9 Business Concepts.
AppendixA Practice Exam.
Glossary Glossary of Networking Terms.
Index.
See More
David Groth is President and Chief Consultant of Devarim Inc., of Fargo, North Dakota. He is the author of the best-selling A+ Complete Study Guide from Sybex, as well as the I-Net+ Study Guide. Groth holds many technical certifications, including Network+, A+, I-Net+, MCP, and CNI. Dorothy L. McGee, i-Net+, MCSE, CNE, is a computer professional with over 14 years in the industry.
See More
CompTIA projecting a 30% growth rate for the i-Net+ program in 2002
i-Net+ has been adopted into training programs at Novell, IBM, and Intel
I-Net+ fulfills the "Foundations" requirement for CIW (Certified Internet Webmaster) program
CD includes two bonus exams and electronic flashcards for PCs and Palm devices
Real-world scenarios added to provide practical insights and perspective on critical exam topics
Sybex is an Authorized CompTIA Training Provider
See More
Download Title
Size
Download
Download Figures for Chapters 1 - 9
Download a .zip file with the figures used in the book.
To uncompress the file, Windows users can use Windows built-in ZIP utilities or a 3rd party utility like WinZip or WinRAR. Macintosh users can simply double-click the downloaded file to extract using the built-in archive utility.
3.70 MB
Click to Download
See More
Do you think you've discovered an error in this book? Please check the list of errata below to see if we've already addressed the error. If not, please submit the error via our Errata Form. We will attempt to verify your error; if you're right, we will post a correction below.
Chapter
Page
Details
Date
Print Run
Combined Errata


Page 0 CD

Assessment Test, Ques. # 2, the correct answer should be D.

Page 5

3rd line from bottom of page, the correct formula is: n(n-1)/2

Last line on bottom of page, should read "...need 8(8-1)/2 or 28 connections..."

Page 366

Second paragraph - the formula should be: 5 computers x 200K is 1000KB total downloaded. Divide that by 8KB per second and you get 125 seconds or just over 2 minutes.

Page To our valued readers

Last line, "...Network +..." should read "...i-Net +..."



See More
Learn more about