Mastering Windows 2000 Server, 4th Edition
ISBN: 978-0-7821-4043-9
Hardcover
1583 pages
April 2002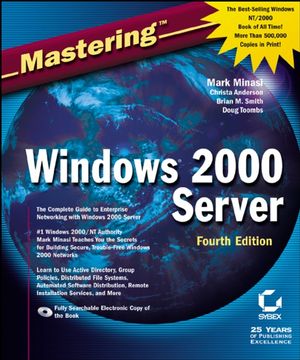 This title is out-of-print and not currently available for purchase from this site.
The ONLY Windows 2000 Resource You Need--Now With a New Emphasis on Security!

The #1 choice of Windows administrators, Mastering Windows 2000 Server gives you all the conceptual and practical information you need to get the most out of Microsoft's flagship network operating system. This is the premier resource for configuring, administering, and tuning Windows 2000 Server as part of a corporate enterprise network. You can depend on it for clear, authoritative instruction in hundreds of techniques that will make your work easier and your job more secure.

Coverage Includes:
* Installing Windows 2000
* Configuring IP, DHCP, WINS, and DNS to achieve the right foundation for your network
* Building and managing domains with Active Directory
* Controlling hundreds, even thousands, of workstations with group policies
* Prebuilding and delivering complete workstation images with Remote Installation Services
* Deploying applications throughout the enterprise with Microsoft Installer
* Understanding advanced DNS design and troubleshooting to keep your domains secure and running
* Improving network resource accessibility with Dfs, Web folders, shared printers, and Web printing
* Using Windows 2000 to share Internet Connections
* Tuning and monitoring your network
* Securing your network with new coverage of IPSec, certificates, security templates, simplified hotfix installations, auditing, and more
* Offering Web content with Internet Information Services 5
Real Solutions to Real Challenges
If improving the real-world performance of your network is the bottom line, this book delivers the goods. It shows you how to design and manage a multiple-platform network, build a Windows-based intranet, find the right data backup strategy, prevent and recover from disasters, and much more. There's no end to what you'll accomplish with practical, step-by-step instruction from the expert who has actually done it all on live networks!