CIW: Site and E-Commerce Design Study Guide (Exams 1D0-420 and 1D0-425)
ISBN: 978-0-7821-4082-8
Hardcover
960 pages
June 2002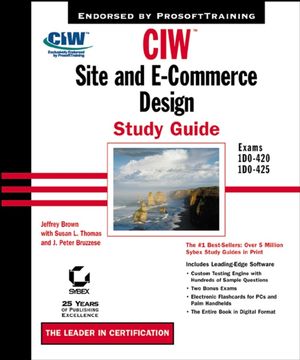 This title is out-of-print and not currently available for purchase from this site.
Other Available Formats:
E-book
Introduction.
Assessment Test.
Part I: Design Methodology and Technology.
Chapter 1: Overview of Web Design Concepts.
Chapter 2: Navigation Concepts.
Chapter 3: Web Graphics.
Chapter 4: Multimedia and the Web.
Chapter 5: The Website Development Process.
Chapter 6: HTML Standards and Compliance.
Chapter 7: HTML Tables and Web Page Structure.
Chapter 8: HTML Frames.
Chapter 9: Metadata, Cookies, and the Web.
Chapter 10: Cascading Style Sheets.
Chapter 11: JavaScript Fundamentals.
Chapter 12: Dynamic HTML.
Chapter 13: Extensible Markup Language (XML).
Chapter 14: Java Applets.
Chapter 15: Databases.
Chapter 16: HTTP Servers.
Chapter 17: Standards Organizations.
Chapter 18: Applications and Tools.
Chapter 19: Website Publishing.
Part II: E-Commerce Strategies and Practices.
Chapter 20: Electronic Commerce Foundations.
Chapter 21: Law and the Internet.
Chapter 22: Web Marketing Goals.
Chapter 23: Online Product Promotion.
Chapter 24: Site Usability and Customer Relationship Management (CRM).
Chapter 25: Business-to-Business Frameworks.
Chapter 26: Electronic Commerce Site Creation Packages¿Outsourcing.
Chapter 27: Electronic Commerce Site Creation/Development Software.
Chapter 28: Configuring and Using Payment Gateways.
Chapter 29: Transaction Security.
Chapter 30: Website Management and Performance Testing.
Appendix A: HTML Quick Reference.
Appendix B: The HTML 4.01 Recommendation.
Appendix C: Electronic Commerce Planning Checklist.
Glossary.
Index.