Computer Forensics JumpStart
ISBN: 978-0-7821-4375-1
304 pages
December 2004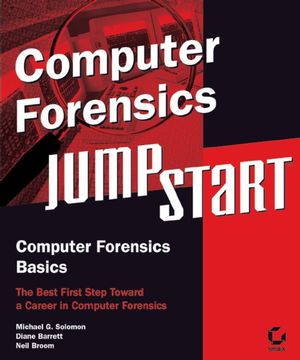 Launch Your Career in Computer Forensics—Quickly and Effectively
Written by a team of computer forensics experts, Computer Forensics JumpStart provides all the core information you need to launch your career in this fast-growing field:
Conducting a computer forensics investigation
Examining the layout of a network
Finding hidden data
Capturing images
Identifying, collecting, and preserving computer evidence
Understanding encryption and examining encrypted files
Documenting your case
Evaluating common computer forensic tools
Presenting computer evidence in court as an expert witness
See More
Introduction.
Chapter 1: The Need for Computer Forensics.
Chapter 2: Preparation?What to Do Before You Start.
Chapter 3: Computer Evidence.
Chapter 4: Common Tasks.
Chapter 5: Capturing the Data Image.
Chapter 6: Extracting Information from Data.
Chapter 7: Passwords and Encryption.
Chapter 8: Common Forensics Tools.
Chapter 9: Pulling It All Together.
Chapter 10: How to Testify in Court.
Appendix A Answers to Review Questions.
Appendix B Forensics Resources.
Appendix C Forensics Certifications.
Appendix D Forensics Tools.
Glossary.
Index.
See More
Diane Barrett
, CISSP, teaches classes on networking, security, and virus protection on ISSA's Generally Accepted Information Security Principles Project.
Neil Broom, CISSP, is a consultant in the fields of computer forensics, information assurance, and professional security testing. He currently serves as the VP of the Atlanta chapter of the ISSA.
Michael Solomon, CISSP, TICSA, is a security consultant and trainer and has worked with clients such as EarthLink, Nike, and Lucent Technologies.
See More
Learn more about