Mastering Mayaź 7
ISBN: 978-0-7821-4442-0
864 pages
April 2006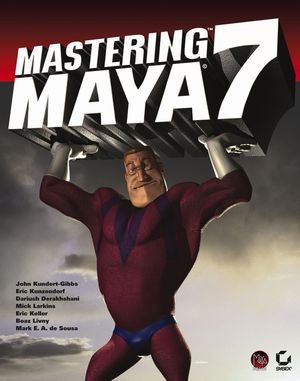 This official, Alias-endorsed guide offers comprehensive, in-depth coverage of the Maya interface. You'll find:
A Quick Start overview followed by in-depth coverage of the Maya interface and all of the tools for modeling, texturing, animation, and special effects.
Information on of all of Maya's latest features as well as chapters on advanced topics.
Material on Maya Unlimited topics such as cloth, fur, and fluids.
A logical organization that that follows the typical Maya workflow.
Tutorials for modelers and animators from all disciplines.
A CD-ROM with tutorial files and the Maya Personal Learning Edition.
Order your copy today!
Note: CD-ROM/DVD and other supplementary materials are not included as part of eBook file.
See More
Introduction.
Chapter 1:  The Maya Interface.
The Interface.
Working in View Panels.
The Main Maya Windows.
Customizing the Interface.
Summary.
Chapter 2:  Quick Start: Creating an Animation in Maya 7.
Maya Project Structure.
Creating and Editing Objects.
Pivots and Placement.
Maya Node Structure.
Assigning Materials Using the Hypershade.
Keyframe Animation.
Basic Lighting.
Rendering Frames.
Summary.
Chapter 3:  Polygonal Modeling.
What Is a Polygon?
Polygonal Modeling Principles.
Creating Machismo.
Modeling Machismo's Body.
Summary.
Chapter 4:  NURBS Modeling.
Understanding NURBS.
Modeling the MacGizmo.
Summary.
Chapter 5:  Subdivision Surfaces.
Understanding Subdivision Surfaces.
Start with a Template.
Modeling the Head.
Details, Details, and Subdivision Surfaces.
Summary.
Chapter 6:  Advanced Modeling.
About Blend Shapes.
Assembling Machismo.
Off with His Head!
The Incredible (Edible) Blend Shape Machine.
Blend Shapes: Sneers, Blinks, and Smiles.
Molding the Full-Head Blend Shapes.
The Paint Blend Shape Weights Tool.
Summary.
Chapter 7:  Basic Animation.
Animation Types.
Keyframe Animation.
Understanding Animation Work Flow.
Hands On: Bouncing a Ball.
Converting Cycled Animation to Curves.
Summary.
Chapter 8:  Character Setup and Rigging.
Deformer Types.
Forward and Inverse Kinematics.
Hands On: Creating a Skeleton.
Creating a Full Body IK Skeleton.
Binding and Weighting the Character.
Summary.
Chapter 9:  Character Animation.
Step Away from the Computer!
Reference Sources.
The Animation Process.
Animating Joe Generic.
Establishing Timings.
Where Do We Start?
Refining Your Animation.
Summary.
Chapter 10:  Nonlinear Animation.
Working with Poses.
Working with Clips.
Hands On: Working with a Full Body IK Animation Rig.
Summary.
Chapter 11:  Lighting for Animation.
Understanding Lighting.
Basic Lighting Work Flow.
Types of Lights.
Light Manipulator.
Using Shadows.
Light Effects.
Summary.
Chapter 12:  Shading and Texturing for Animation.
Understanding Maya Textures.
The Hypershade.
Building Simple Shading Networks.
Shading the MacGizmo.
Shading Machismo: The UV Foundation.
Creating Machismo's Texture.
Summary.
Chapter 13:  Rendering Basics.
Rendering an Object.
Creating and Animating Cameras.
Setting the Camera and Resolution.
Adding Depth of Field.
Adding Motion Blur.
Using the Render Settings Window.
Rendering with Maya Software.
Hardware Render and Hardware Render Buffer.
Vector Rendering.
Working in the Render View Window.
Layer Rendering, Compositing, and Editing.
Ultimate Rendering Checklist.
Summary.
Chapter 14:  Advanced Rendering with mental ray.
Introduction to mental ray.
Understanding Render Settings.
mental ray Custom Shaders.
mental ray Lights, Shadows, and Fog.
mental ray Motion Blur.
Indirect Illumination.
Image-Based Lighting and HDRI.
Surface Approximation and Displacement Maps.
Summary.
Chapter 15:  Maya Embedded Language (MEL).
MEL Is Fundamental.
What Is a Scripting Language?
The Script Editor.
What Is an Attribute?
How to Get Help with MEL.
Hands On: Creating a Light Setup Using MEL.
Variables, Loops, and Branching.
Debugging MEL Scripts.
A Comment on Commenting.
Creating a GUI.
Using Procedures and Scripts.
Summary.
Chapter 16:  Paint Effects.
Understanding Paint Effects.
Painting with Paint Effects.
2D Canvas Painting.
3D Paint Effects.
Paint Effects and Animation.
Understanding Tubes: A Rose Tree Tutorial.
Summary.
Chapter 17:  Rigid Body Animation.
Rigid Body Dynamics Basics.
Creating a Simple Rigid Body.
Working with Fields and Impulses.
Animating between Active and Passive Modes.
Adding Constraints to a Rigid Body.
Using the Rigid Body Solver.
Converting (Baking) a Rigid Body Animation into Keyframes.
Summary.
Chapter 18:  Using Particles.
What Are Particles?
Using Particles for Effects.
Manipulating Particles with Fields and Goals.
Advanced Particle Expressions.
Summary.
Chapter 19:  Fluid Effects.
What Is a Maya Fluid?
Drag-and-Drop Fluids.
Creating and Editing Fluids.
Painting into Containers.
Creating an Ocean Effect.
Creating a Pond Effect.
Hands On: Creating a Disappearing Cloud Effect for Machismo.
Summary.
Chapter 20:  Maya Hair.
Fundamentals of Hair Systems.
How to Make Hair.
Hands On: Apply Hair to a Head.
Hair Dynamics and Collisions.
General Work Flow Speedups.
Cache.
Rendering Hair.
Using Hair to Drive a Skeletal System.
Summary.
Chapter 21:  Maya Fur.
Creating Fur.
Fur Attribute Maps.
Adding Fur to a Character.
Summary.
Chapter 22:  Maya Cloth.
Understanding Cloth.
Panel Cloth.
Collision Objects.
Cloth Properties.
Cloth Solver Attributes.
Tailoring Pants with Panels.
Creating Cloth Objects.
Recording and Saving the Cloth Animation.
Animation and Cloth Simulations.
Adding Dynamic Fields to Cloth.
Summary.
Appendix:  Introducing Toon Shading.
Understanding Toon Shading.
Applying Fills.
Generating Toon Lines.
Toon Line Techniques.
Using Paint Effects Strokes with Toon Outlines.
Toon Line Modifiers.
Summary.
Index.
See More
John Kundert-Gibbs
wrote Chapters 8, 15, 17, and 19. He is director of the Digital Production Arts program and Associate Professor in Computer Science at Clemson University. He has written extensively on Maya and 3D-related topics, including the
Mastering Maya
series and the two
Maya: Secrets of the Pros
books. He's also written on the intersection of media design and theatrical production. Dr. Kundert-Gibbs is proud of the graduates of the DPA program, many of whom now work in the best effects houses in the industry.
Eric Kunzendorf wrote Chapters 3 through 7, 9, and 12. He serves as co-chairman of Electronic Arts in the areas of Computer Animation, Digital Multimedia, and Digital Art at the Atlanta College of Art and has been teaching computer graphics and animation at the college level for the last 12 years. He previously taught computer art at the School of Visual Arts' Savannah campus. He holds a Bachelors of Arts in art history from Columbia University and a Masters of Fine Arts in drawing and painting from the University of Georgia.
Eric co-authored Maya 5 Savvy as well as contributed to Maya: Secrets of the Pros. His animations, "Final Project Assignment" and "Mime in a Box," have appeared at the Siggraph Computer Animation Festival in 1999 and 2000 respectively. The latter animation also appears on the commercial DVD "Computer Animation Journeys." Most recently, his 2004 animation "The Secret Life of Netsuke" won first place in SEDAF—the Southeastern Digital Arts Festival. He has also exhibited computer-generated prints on the regional and national level.
Dariush Derakhshani wrote Chapters 1 and 21. He is an award-winning digital effects supervisor and author of several bestselling Maya books, including Introducing Maya 7: 3D for Beginners and Maya Secrets of the Pros. For almost a decade, he has worked on feature films (Fantastic Four, The Visitation, The Adventures of Shark Boy and Lava Girl), national TV commercials (BMW and Lexus), TV series (South Park), and music videos (Cake and Linkin Park). Dariush shares the 2003 London Advertising Award for commercial effects, won the Bronze Plaque from the Columbus Film Festival, and received a fellowship from Paramount Pictures. Dariush has an MFA from USC Film School and has been teaching Maya and animation classes for the past seven years.
Mick Larkins wrote Chapters 2, 11, and 20. He holds an MFA in Digital Production Arts from Clemson University and a BS in Computer Science from Furman University. His expertise includes hair, cloth, and game development. His animated contributions have been exhibited in the Eurographics Animation Theatre, South Eastern Digital Animation Festival, and the Cineme International Film Festival. Currently, Mick is the Technical Art Lead at Hi-Rez Studios in Atlanta, GA. Mick wants to dedicate his contributions in this book to his wonderful wife, Megan. Visit his website at www.micklarkins.com.
Eric Keller wrote Chapters 13, 18, and the appendix. He has been a professional animator since 1998. For seven years he created scientific animations for the Howard Hughes Medical Institute, working with some of the world's top researchers. In 2005 he dragged his wife, Zoe, and their two dogs out to Hollywood, California, where he currently works as a freelancer creating animations for film, television, and commercials. In school he studied classical guitar and didn't think much of computer animation until he accidentally rendered a chrome sphere in 1997. Since then, he has spent most of his time studying and practicing the art of computer graphics along with drawing and sculpture. He has had numerous tutorials and articles published in Highend3d and HDRI3d magazines. His goals for the future are to continue to study in Hollywood and eventually use what he's learned to help expand the role of 3D graphics and animation in art and culture.
Boaz Livny wrote Chapters 14 and 16. He has been working for more than 10 years with 3D for film, TV, and multimedia content. He is a technically savvy artist who special izes in lighting and rendering but is experienced working in the entire pipeline. His New York studio Vision Animations Inc. (www.visionanimations.com) provides regular services to clients and freelance support for studios. He is a professor of master's level courses at NYU's Center for Advanced Digital Applications (CADA). Boaz regularly writes articles demonstrating advanced techniques with Maya and mental ray in HDRI 3D magazine. His new book mental ray with Maya, XSI and 3D studio max: A 3D Artist's Guide to Rendering (Wiley) will be published in 2006. Boaz is currently developing an Advanced Training Center for computer arts and science in NYC. Information is available at www.3DArts.org.
Mark E. A. de Sousa wrote Chapter 22. He is a Computer Graphics Supervisor: Cloth and Hair at Sony Pictures Imageworks. Currently he is the Cloth Lead on Sony Pictures Animation's first feature project called Open Season. Mark's screen credits also include being the Cloth Lead on Spider-Man II. In the past nine years, he has worked on more than 13 feature films including Spider-Man II, Polar Express, Stuart Little II, Harry Potter and the Sorcerer's Stone, The Hollowman, and Star Trek: Insurrection. Mark is also a part-time instructor at the Gnomon School of Visual Effects in Hollywood, California. He is a graduate of Centennial College's Digital Animation Program in Toronto, Canada.
See More
Detailed, expert contents: Covers all of Maya's latest features and includes chapters on such advanced Maya Unlimited topics as cloth, fur, and fluids.
Hands-on tutorials: The diverse tutorials by our team of expert authors solidify the learning experience.
Maya Press: This book is officially endorsed by Alias, the makers of Maya.
Logically organized to follow the typical Maya workflow
The CD-ROM includes tutorial files and the Maya Personal Learning Edition.
See More
Download Title
Size
Download
Download Texture Example - missing from companion CD
The texture mentioned on page 71 was missing from the CD. Download it here.
768.04 KB
Click to Download
Download GeoConstrain.mel script - missing from companion CD
The GeoConstrain.mel script mentioned on page 217 was missing from the CD. Here it is.
514 bytes
Click to Download
Download network license
For free Word viewer go to microsoft.com.
61.50 KB
Click to Download
Download Triangles.mb file - missing from companion CD
The file "triangles.mb" is required to complete the Chapter 3 tutorial and is not included on the companion CD. Download it here.
49.75 KB
Click to Download
See More
Do you think you've discovered an error in this book? Please check the list of errata below to see if we've already addressed the error. If not, please submit the error via our Errata Form. We will attempt to verify your error; if you're right, we will post a correction below.
Chapter
Page
Details
Date
Print Run
71, 94, and 217
Files missing from companion CD
The texture mentioned on page 71, the GeoConstrain.mel script mentioned on page 217, and the Triangles.mb file mentioned on page 94 are missing from the CD. Visit the downloads section for this title to download them.
June 1, 2006
See More