E-book
Networking Foundations: Technology Fundamentals for IT Success
ISBN: 978-0-7821-5114-5
351 pages
February 2006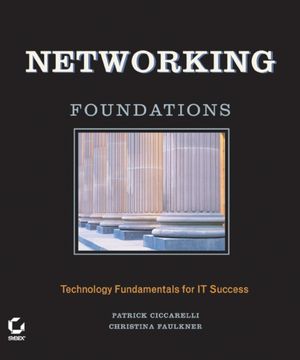 The world of IT is always evolving, but in every area there are stable, core concepts that anyone just setting out needed to know last year, needs to know this year, and will still need to know next year. The purpose of the Foundations series is to identify these concepts and present them in a way that gives you the strongest possible starting-point, no matter what your endeavor.
Networking Foundations provides essential knowledge about designing, building, and maintaining a network. What you learn here will benefit you in the short term, as you acquire and practice your skills, and in the long term, as you use them. Topics covered include:
Networking fundamentals
The OSI networking model
Network architectures
File servers and network clients
Physical and logical topologies
Electrical issues in networking
Network media and cabling devices
Network standards and protocols
LAN installation
WAN basics
Internet access
See More
Introduction.
Chapter 1: What Is Networking?.
Chapter 2: Communication Models.
Chapter 3: Network Architectures.
Chapter 4: Network Services and Software.
Chapter 5: Topologies.
Chapter 6: Electricity.
Chapter 7: Signaling.
Chapter 8: Network Media.
Chapter 9: Devices.
Chapter 10: Standards.
Chapter 11: Network Protocols.
Chapter 12: LAN Design.
Chapter 13: Network Management.
Chapter 14: WANs and Internet Access.
Appendix A Answers to Review Questions.
Appendix B Acronyms and Abbreviations.
Glossary.
Index.
See More
Christina Faulkner and Patrick Ciccarelli are instructors for the Cisco Networking Academy at San Francisco State University and founding partners of Nethos Inc., a Bay area technology consulting company serving education and small business markets. Both authors have Masters degrees in Instructional Design. Christina has more than 15 years of experience as an educator, and Patrick previously worked as in PC technical support for several years.
See More
Learn more about