E-book
Network Security JumpStart: Computer and Network Security Basics
ISBN: 978-0-7821-5209-8
384 pages
February 2006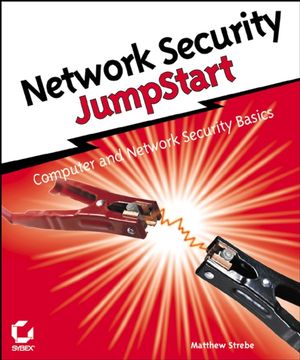 Build Your Network Security Career on a Solid Foundation
Whether you're setting out to earn a security certification or just want to know more about the security issues faced by all network administrators, Network Security JumpStart is the place to begin. Inside, a networking expert demystifies every aspect of the growing security imperative, giving you a firm footing from which you can realize your goals and develop a better understanding of computer and network security. Coverage Includes:
Understanding security principles
Understanding hacking
Using encryption and authentication
Managing security
Securing Internet connections
Using Virtual Private Networks
Securing remote and home users
Implementing virus protection
Creating fault tolerance
Securing Windows servers
Securing UNIX servers
Securing public web servers
Securing public e-mail servers
Detecting intrusion
See More
Introduction.
Chapter 1: Security Principles.
Chapter 2: Understanding Hacking.
Chapter 3: Encryption and Authentication.
Chapter 4: Managing Security.
Chapter 5: Border Security.
Chapter 6: Virtual Private Networks.
Chapter 7: Securing Remote and Home Users.
Chapter 8: Virus Protection.
Chapter 9: Creating Fault Tolerance.
Chapter 10: Windows Security.
Chapter 11: Securing Unix Servers.
Chapter 12: Unix Network Security.
Chapter 13: Web Server Security.
Chapter 14: E-mail Security.
Chapter 15: Intrusion Detection.
Appendix A: Answers to Review Questions.
Appendix B: Glossary.
Index.
See More
Matthew Strebe is the best-selling author of Windows 2000: 24seven and From Serf to Surfer: Becoming a Network Consultant. Owner of Netropolis, a network integration firm specializing in high-speed networking and Windows NT/2000, Strebe's long history of networking includes installing the US Navy's first fiber-optic local area network on a ship.
See More