E-book
CIW: Security Professional Study Guide: Exam 1D0-470
ISBN: 978-0-7821-5214-2
728 pages
February 2006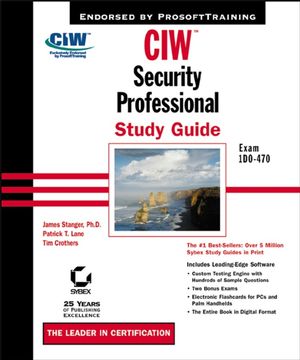 Here's the book you need to prepare for Exam 1D0-470, CIW Security Professional.
This Study Guide provides:
In-depth coverage of official exam objectives
Practical information on security concepts and practices
Hundreds of challenging review questions, in the book and on the CD
Leading-edge exam preparation software, including a testing engine and electronic flashcards
Authoritative coverage of all exam topics, including:
Implementing internetworking encryption and encryption methods
Analyzing firewall types and firewall terminology
Planning security systems and incorporating multiple levels of protection
Securing mechanisms and parameters for Windows and UNIX
Analyzing router security, threat containment, and intrusion detection
Implementing intrusion-detection systems in an enterprise environment
Installing operating system add-ons for personal firewalls and native auditing SSH
Note: CD-ROM/DVD and other supplementary materials are not included as part of eBook file.
See More
Introduction.
Assessment Test.
Chapter 1: What Is Security?.
Chapter 2: Applied Encryption.
Chapter 3: Types of Attacks.
Chapter 4: General Security Principles.
Chapter 5: Firewalls Roles and Types.
Chapter 6: Firewall Topologies and Virtual Private Networks.
Chapter 7: Detecting and Distracting Hackers.
Chapter 8: Operating System Security.
Chapter 9: File System Security.
Chapter 10: Assessing and Reducing Risk.
Chapter 11: The Auditing Process.
Chapter 12: Auditing Penetration and Control Strategies.
Chapter 13: Intrusion Detection.
Chapter 14: Auditing and Log Analysis.
Chapter 15: Recommending Solutions and Generating Reports.
Appendix A: Sample Security Audit Report.
Appendix B: A Sample Enterprise Scanner Report.
Appendix C: Internet Security Resources.
Glossary.
Index.
See More
James Stanger has been working in the IT industry since 1995. A Master CIW Administrator, he has worked for ProsoftTraining as Course Director for the CIW Server Administrator and CIW Security Professional certifications since 1999. Patrick T. Lane is the Director of Courseware for ProsoftTraining.com. He assisted in the creation of the CIW program and the i-Accelerate program for Intel, Novell and Microsoft professionals. Tim Crothers, CCNA, CIW, MCSE, CNE, is the chief security engineer at ITM Technology LLC, a firm that offers leading-edge Internet threat management services.
See More