E-book
Upgrading Your Home PC
ISBN: 978-0-7821-5314-9
318 pages
February 2006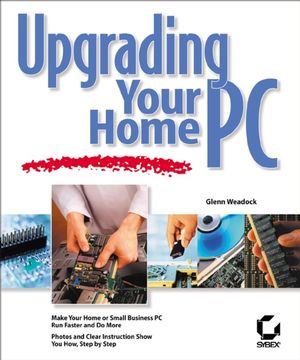 With the Right Resource, Upgrading's Easier than You Think
Ever feel like PC technologies evolve so quickly that your own machine is out of date just months after you get it? Now you can keep up without taking it to a professional, without getting in trouble, and without buying a new one.
Upgrading Your Home PC uses detailed photographs and clear, step-by-step instructions to show you how to accomplish the most common, most satisfying upgrade tasks yourself. You'll be amazed by how easy it is!
Coverage includes:
Adding memory
Adding a hard drive
Adding a Zip or Jaz drive
Adding a recordable CD drive
Setting up a broadband Internet connection
Installing an inkjet or laser printer
Upgrading a display card
Connecting a flat-panel LCD monitor
Installing a network card
Setting up a wired or wireless network
Upgrading a power supply
Upgrading your PC's sound system
Using a digital camera with your PC
Installing joysticks and other input devices
Capturing video
Upgrading your BIOS
Upgrading or adding a CPU
Setting up USB, SCSI, or FireWire buses
See More
Introduction.
Chapter 1: Read Me First.
Chapter 2: Memory.
Chapter 3: Storage.
Chapter 4: Communications.
Chapter 5: Printers.
Chapter 6: Displays.
Chapter 7: Networking.
Chapter 8: Power.
Chapter 9: Of Mice and Multimedia.
Chapter 10: BIOS and CPU.
Chapter 11: Buses.
Chapter 12: References and Resources.
Index.
See More
Glenn Weadock, MCSE, is President and founder of Independent Software Inc. a computer consulting and training firm based in the Denver, Colorado area. An experienced lecturer and trainer, Glenn has written over 20 books on computing, covering a wide range of topics including Windows 95, MCSE, the Windows Registry, small business networks and Microsoft PowerPoint.
See More