The Heart of Healing: Relationships in Therapy
ISBN: 978-0-7879-0026-7
313 pages
November 1994, Jossey-Bass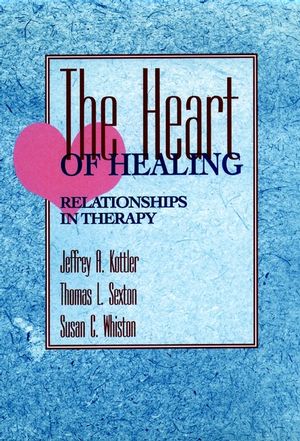 The Heart of Healing is a comprehensive exploration of the essence of healing in human relationships--whether between a shaman and tribesmember, between clergy and parishoner, or a therapist and client--that pushes beyond traditional and limiting theoretical models toward a deeper, broader understanding of how to harness, enhance, and apply this powerful phenonmenon to achieve its fullest potential in diverse clinical settings.

Drawing on cross-cultural and interdisciplinary empirical research and numerous revealing case studies from their own therapy practices, the authors present a variety of innovative models for understanding and fostering relationships with clients that engender constructive change--and that can be used regardless of theoretical orientation, cultural background, or clinical setting. Pulling together the essential threads that weave the intricate fabric of the client-therapist relationship, they examine through first-hand accounts how the personal relationships, characteristics, and cultural biases of both the client and therapist affect their interactions during the therapy process, as well as influence relationships in their personal lives. They describe the conceptual building blocks of a healing encounter--including authentic engagement, projected images, and interactional patterns--and show how each of these can promote or impede a healthy and effective relationship.
See More
Part One: Understanding Healing Relationships
1. Paradoxes in Therapy
2. Personal and Therapeutic Relationships
3. Relationships in the Life of the Therapist
4. Diversity and Multiculturalism
Part Two: Conceptual Puzzles
5. Maps of Relationships
6. Being Authentic
7. Impress Me, Influence Me
8. Ghosts in the Room
9. Black Holes and the Patterns That Connect
Part Three: Clinical Challenges
10. The Nature of Healing in Relationships
11. Using the Relationship Advantageously
12. When Therapeutic Relationships Don't Work
13. The Future of Relationships in Therapy
See More
JEFFREY A. KOTTLER is Professor of Counseling and Educational Psychology at the University of Nevada, Las Vegas, and author of numerous books, including On Being a Therapist (Jossey-Bass, 1986), The Compleat Therapist (Jossey-Bass, 1991), and Beyond Blame (Jossey-Bass 1993). THOMAS L. SEXTON is Associate Professor of Counseling and Educational Psychology at the University of Nevada, Las Vegas. SUSAN C. WHISTON is Associate Professor of Counseling and Educational Psychology, University of Nevada, Las Vegas.
See More