Conflict, Cooperation, & Justice: Essays Inspired by the Work of Morton Deutsch
ISBN: 978-0-7879-0069-4
441 pages
May 1995, Jossey-Bass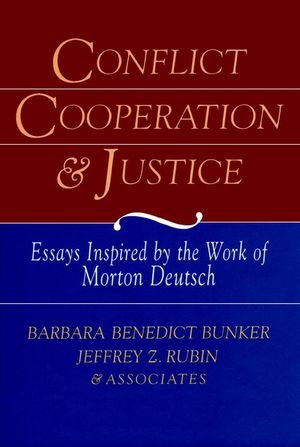 Inspired by the groundbreaking work of Morton Deutsch, a pioneer in applied social psychology. The contributors--all authorities in their fields and former students or colleagues of Deutsch--include leading thinkers from schools and departments of sociology, psychology, education, and management, with expertise ranging from labor relations to school-based conflict resolution to cooperative education programs and business policy. Each chapter focuses on one of the three areas of Deutsch's work--conflict, cooperation, and justice--with a commentary by Deutsch himself concluding each section. This volume is both a tribute to the work of Deutsch and a cross-disciplinary contribution to theory and practice in conflict, cooperation, and justice--with applications that cut across business, community, political, and other social groups.
See More
Part One: Conflict
1. Conflict Across Levels of Analysis: Bridges and Barriers(Jeffrey Z. Rubin, George Levinger)
2. Conflict Formulation: The Cross Cultural Challenge(Guy Olivier Faure)
3. A Multimodal Approach to Seemingly Intractable Conflict(Dean G. Pruitt, Paul V. Olczak)
4. Conflict Resolution Training in the Schools: The Challenge and the Promise(Ellen Raider)
Part Two: Cooperation
5. Trust in Relationships: A Model of Trust and Development and Decline(Roy J. Lewicki, Barbara Benedict Bunker)
6. Cooperation Within a Competitive Context: Lessons from Worker Cooperatives
7. Social InterdepAndence in Education: Cooperative Learning(David W. Johnson, Roger T. Johnson)
Part Three: Justice
8. Three Faces of Social Justice(Rob Folger, Blair Sheppard, Robert Buttram)
9. Dealing with Tradeoffs Among Justice Principles: The Motivational Antecedents of Definitions of Fairness(Tom R. Tyler, Maura A. Belliveau)
10. Desperating Seeking (In)Justice(Michelle Fine, Mun Wong)
11. Drawing the Line: Social Categorization and Social Exclusion(Susan Opotow)
12. Discussion and Conclusions(Jeffrey Z. Rubin, Barbara Benedict Bunker)
See More
BARBARA BENEDICT BUNKER is associate professor of psychology at the State University of New York at Buffalo and a consultant to business. JEFFREY Z. RUBIN is professor of psychology at Tufts University, editor of Negotiation Journal, and former executive director of the Harvard Program on Negotiation.
See More