Teaching Within the Rhythms of the Semester
ISBN: 978-0-7879-0073-1
288 pages
April 1995, Jossey-Bass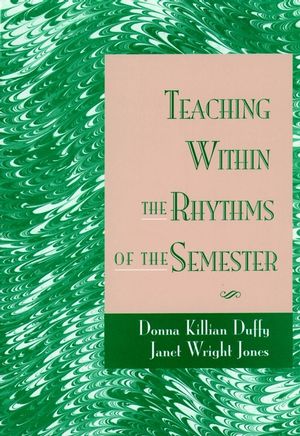 The authors model practices that instructors at every level may use to get off to a good beginning, maintain motivation in the mid-semester doldrums, and achieve successful closure at the And. Each chapter opens with a vignette that illustrates challenges teachers encounter and the ways both they and their students respond to them.
See More
Part One: Prelude to the Semester.

1. Exploring Teaching Styles.

2. Creating Magic in the Classroom.

3. Stalking the Superior Syllabus.

Part Two: Tempo of the Semester.

4. The Opening Weeks: Establishing Community.

5. The Interim Weeks: Beating the Doldrums.

6. The Final Weeks: Achieving Closure.
See More
DONNA KILLIAN DUFFY is professor and co-coordinator of the Activating Learning in the Classroom (ALC) program at Middlesex Community College, Bedford and Lowell, Massachusetts. JANET WRIGHT JONES is professor emeritus of Middlesex Community College and former co-coordinator of the ALC program. In 1991, Duffy and Jones received the International Award for Teaching Excellence presented by the International Conference on Teaching Excellence at Austin, Texas, as well as awards for Teaching Excellence at Middlesex Community College.
See More
Learn more about