The Changing Nature of Work
ISBN: 978-0-7879-0102-8
590 pages
July 1995, Pfeiffer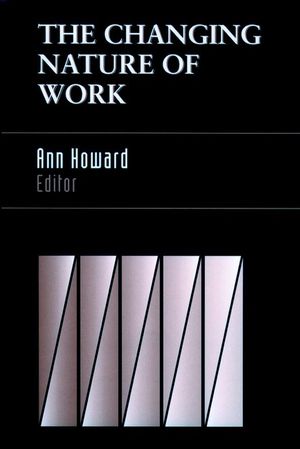 The Changing Nature of Work envisions the future nature of work, its effect on workers and organizations, and the expanded knowledge that will be needed to optimize its returns. The book examines critical post-industrial transformations in work, workers, and the experience of working and assesses the implications of those changes. It investigates what is driving change at work, what is constraining it, and where work is headed as governments, societies, and work organizations respond to its revolutionary thrust.
See More
Part One: Connections
1. A Framework for Work Change(Ann Howard)
2. The Political Context of Employment
Political-Economic Institutions, Labor Relations, and Work(Kirsten Wever)
Government Regulation of Human Resources(James Ledvinka)
Part Two: Work
3. Technology and the Organization of Work
New Information Technologies and Changes in Work(Jan Van der Spiegel)
Form, Function, and Strategy in Boundaryless Organizations(Donald D. Davis)
4. New Manufacturing Initiatives and Shop Floor Job Design(Toby D. Wall, Paul R. Jackson)
5. Technological Changes in Office Jobs: What We Know and What We Can Expect(Michael D. Coovert)
Part Three: Workers
6. Human Resources and Their Skills
The Youth Labor Market: Skill Deficiencies and Public Policy(Paul Osterman)
Enhancing Skills in the New Economy(Anthony P. Carnevale)
7. Advancing Personnel Selection and Placement Methods(Frank J. Landy, Laura Shankster-Cawley, Stacey Kohler Moran)
8. Changing Individual-Organizational Attachments: A Two-Way Street(Denise M. Rousseau, Kimberly Wade-Benzoni)
9. Careers as Lifelong Learning(Douglas T. Hall, Philip H. Mirvis)
Part Four: Working
10. When People Get Out of the Box: New Relationships, New Systems(Susan Albers Mohrman, Susan G. Cohen)
11. Leadership in the Twenty-First Century: A Speculative Inquiry(Robert J. House)
12. Changing Conceptions and Practices in Performance Appraisal(Jerry W. Hedge, Walter C. Borman)
Part Five: Reflections
13. Post-Industrial Lives: New Demands, New Prescriptions(Jerald Hage)
14. Rethinking the Psychology of Work(Ann Howard)
See More
ANN HOWARD is president of the Leadership Research Institute, a nonprofit organization dedicated to research on the selection and development of leaders and managers. She is also senior research consultant for Development Dimensions International (DDI), a leading human resource development and consulting firm with more than thirty offices worldwide. She is the coauthor of Diagnosis for Organizational Change (1994, with others) and Managerial Lives in Transition (1988, with D. W. Bray), which won the Academy of Management's George R. Terry Award of Excellence in 1989.
See More