The Reward Plan Advantage: A Manager's Guide to Improving Business Performance Through People
ISBN: 978-0-7879-0232-2
332 pages
April 1996, Jossey-Bass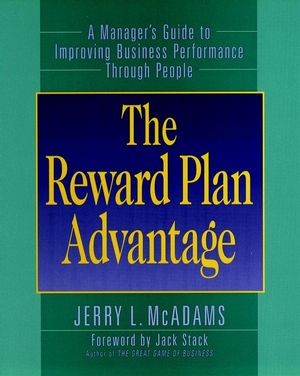 Companies are finally discovering that their employees aren't just a cost of doing business, but their most valuable asset. The Reward Plan Advantage presents a model for designing performance reward systems that encourage information sharing, feedback, and employee involvement for improved individual performance and organizational success.

The Reward Plan Advantage provides the tools to help you:


* Identify objectives and measurements
* Assess your current situation
* Create recognition plans
* Determine group and project team incentive plans
* Select the types of rewards
* Implement your reward and recognition plan


The Reward Plan Advantage is filled with numerous charts, graphs, surveys, checklists, and other practical tools to create a reward and recognition system and group incentive plan.
See More
Foreward by Jack Stack.

THE FUNDAMENTALS.

1. Getting Something Useful out of This Book--Quickly.

2. How We Got There.

3. Objectives and Measurements.

4. Assessing Your Current Situation.

INDIVIDUAL COMPENSATION.

5. Behavior and the Individual.

6. Individual Compensation and Capability.

RECOGNITION, GROUP, AND PROJECT TEAM INCENTIVE PLANS.

7. Recognition Plans.

8. Group Incentive Plans.

9. Project Team Incentive Plans.

10. Types of Awards.

11. Implementation.

12. Summary and Final Thoughts.
See More
JERRY L. MCADAMS is a consultant who has worked with pharmaceutical companies, telecommunications organizations, manufacturers, service businesses, and health care providers to create and sustain high performing teams, effective team players, and team-based systems.
See More