Creating Training Miracles
ISBN: 978-0-7879-0992-5
344 pages
May 1997, Pfeiffer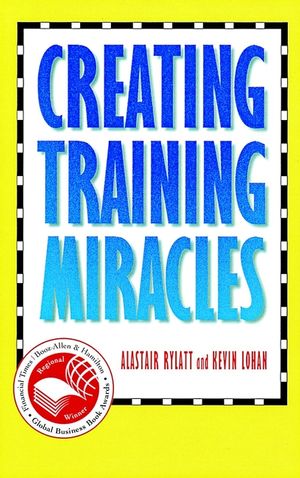 Create your own training miracles!
Discover training techniques that produce extraordinary results--training miracles! With the right tools and training, everyone has the ability to learn. And to be a successful trainer, you yourself need to continue learning. Explore emerging trAnds in training such as globalization, competency-based training, and high-tech delivery of training.
Each chapter introduces you to a different training method, and opens with a story to actually demonstrate how the technique works.
Learn all about:
Getting Training Results in the Workplace
Competency-Based Training
Self-Directed Learning
Using Icebreakers and Energizers to Warm Up Learners
Neurolinguistic Programming
The Power of Accelerative Learning
Successful Role-Playing Techniques
Designing and Using Classic Case Studies
Organizing Outdoor Learning Programs
Facilitation . . . and more!
Select only the topics that interest you. Want to learn more about a particular training technique? Every chapter contains a summary and list of references for further reading and research.
Discover cutting-edge, exciting techniques and create training programs that produce amazing results!
See More
About the Authors.
Preface.
Emerging Trends in Training.
Getting Training Results in the Workplace.
Self Directed Learning.
Stoking the Fire: Warming Up the Learner with Icebreakers and Energizers.
Neurolinguistic Programming.
The Power of Accelerative Learning.
Successful Role Playing Techniques.
Designing and Using Classic Case Studies.
Adventures in Paradise: How to Organize an Outdoor Learning Program.
A Pilot's Guide to Facilitation.
Reaching for the Stars.
Appendix 1: Chapter 5: Examples of Icebreakers and Energizers.
Appendix 2: Chapter 6: Suggested Answers to Exercises.
Appendix 3: Chapter 10: Some Outdoor Activities.
Appendix 4: Chapter 10: Outdoor Learning Checklist.
INDEX.
See More
ALASTAIR RYLATT
is acknowledged as an expert international trainer, strategist, and award-winning author in workplace learning, advanced training skills, and change management. He is the director of Excel Human Resource Development in Sydney, Australia.
KEVIN LOHAN is a director of Endeavour Training and Development in New South Wales, Australia. He coestablished the National Institute for Trainers and Assessors (NITA) in 1995. Some of his clients have included BHP, Coca-Cola, Coopers & Lybrand, and Philips Australia. Both authors live in Australia.
See More