Information Technology in Higher Education: Assessing Its Impact and Planning for the Future: New Directions for Institutional Research, Number 102
ISBN: 978-0-7879-1409-7
89 pages
July 1999, Jossey-Bass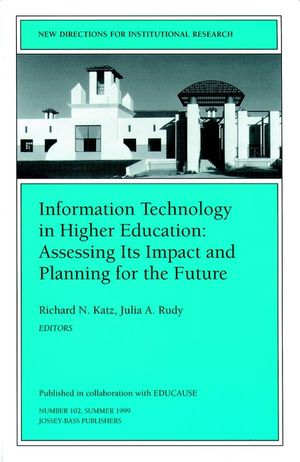 Just as information technology is changing the ways traditional colleges and universities deliver instruction and services, it also is changing how we organize, fund, and evaluate our institutions. This volume of New Directions for Institutional Research--a collaborative effort of the Association for Institutional Research and EDUCAUSE--provides campus leaders, institutional researchers, and information technologists much-needed guidance for determining how IT investments should be made, measured, and assessed. The authors offer practical, effective models for integrating IT planning into institutional planning and goals; assessing the impact of IT investments on teaching, learning, and administrative operations; and promoting efficient information management practices.
This is the 102nd issue of the quarterly journal New Directiond for Institutional Research.
See More
Integrating Information Technology Planning and Funding at the Institutional Level (S. Foster & D. Hollowell).
Assessing the Academic Networked Environment (J. Lippincott).
Modeling and Managing the Cost and Quality of Information Technology Services at Indiana University: A Case Study (C. Peeble, et al.).
Assessing the Changing Impact of Technology on Teaching and Learning at Virginia Tech: A Case Study (C. Taylor & J. Eustis).
Institution-Wide Information Management and Its Assessment (G. Bernbom).
See More
RICHARD N. KATZ is a vice president of EDUCAUSE, a nonprofit association dedicated to transforming education through information technologies. JULIA A. RUDY is director of research and development and editor of the journal CAUSE/EFFECT at EDUCAUSE.
See More
Learn more about