Measuring What Matters: Competency-Based Learning Models in Higher Education: New Directions for Institutional Research, Number 110
ISBN: 978-0-7879-1411-0
120 pages
July 2001, Jossey-Bass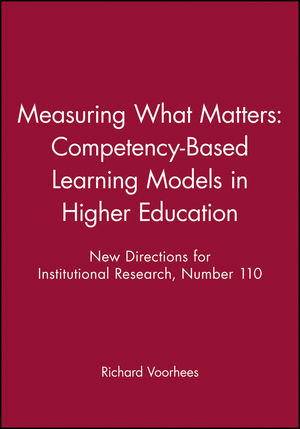 Intended as a toolkit for academic administrators, faculty and researchers to deal effectively with the rapid emergence of competency-based learning models across higher education, this volume provides practical advice and proven techniques for implementing and evaluating these models. Drawing from a recent National Postsecondary Education Cooperative project that examined data and policy implications across public and private institutions as well as an industrial setting, readers will find an inventory of strong practices to utilize in evaluating competency-based initiatives. Issues discussed include practical concerns of measuring and reporting competency; the critical connections between the skills employers seek and student preparation for them; the connections between distance education, accrediation, and competencies; and the difficult procedure of setting appropriate passing standards for assessments. With a bibliography on competency literature and a framework for creating competency models, this volume is an invaluable tool to researchers and practitioners alike.
This is the 110th issue of the Jossey-Bass series New Directions for Institutional Research.
See More
EDITOR'S NOTES (Richard A. Voorhees).
1. Competency-Based Learning Models: A Necessary Future (Richard A. Voorhees).
This chapter provides an overview of the movement toward competency-based learning models. It is this new paradigm that will ultimately redefine the roles of faculty, institutions, and accreditors.
2. Working in Partnership with Faculty to Transform Undergraduate Curricula (Elizabeth A. Jones).
Specific issues involved in defining and embedding competencies across courses and other learning experiences in order to enhance student performance are examined. Strategies are offered for faculty and institutional researchers who want to work together to improve student learning.
3. Measuring and Reporting Competencies (Trudy H. Bers).
Measuring and reporting competencies requires the implementation of new and innovative processes that often conflict with existing systems of measuring and reporting learning outcomes. Examining the ways that some institutions have addressed these issues can be a useful starting point for educators as they begin planning competency-based programs.
4. Using Competencies to Connect the Workplace and Postsecondary Education (Karen Paulson).
To maintain viability, postsecondary institutions must prepare their graduates to enter today's performance-driven labor market. This chapter examines the use of competencies in business and summarizes skill and competency resources that institutions can use to ready their students for successful entry into the workforce.
5. Standard Setting (T. Dary Erwin, Steven L. Wise).
Higher education assessment is moving steadily toward increased accountability. Assessment practitioners, institutional researchers, and faculty must be able to set defensible standards by using systematically followed procedures. This chapter discusses two methods that practitioners can use to set standards.
6. Competencies, Regional Accreditation, and Distance Education: An Evolving Role? (Dawn Geronimo Terkla).
This chapter provides an overview of the link between competencies and current accreditation standards and examines the influence of distance education on the accreditation landscape. Techniques are suggested that institutional researchers can use to position their institutions advantageously in the contemporary accreditation process.
7. Creating and Implementing Competency-Based Learning Models (Alice Bedard Voorhees).
Institutional researchers can take the lead in addressing the public and workplace call for greater institutional accountability by educating their colleagues about the possibilities inherent in competency-based learning models and by assisting with the evaluative efforts to implement these models.
8. An Annotated Bibliography on Competencies (Karen Paulson).
This chapter surveys the published literature and Internet-based resources on competencies. It provides a valuable touchstone for further research in this area.
INDEX.
See More
Learn more about