Higher Education and School Reform
ISBN: 978-0-7879-4062-1
240 pages
May 1998, Jossey-Bass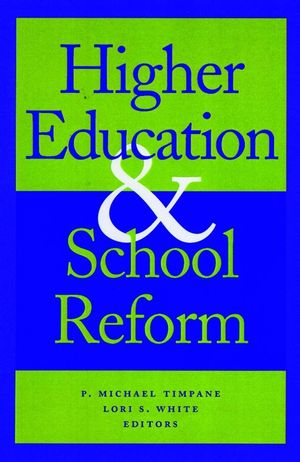 This book examines the critical relationship between higher education institutions and K-12 schools ? especially higher education's role in implementing systemic school reform. It analyzes key aspects of higher education/school interactions ? teacher education, partnerships for learning, college preparatory curricula, admissions practices, and faculty research Andeavors ? to uncover the factors that stand in the way of more effective collaboration.

Higher Education and School Reform helps define what schools and higher education need from each other, and explores new models for a more productive working relationship. Administrators, researchers, and policymakers will find it an essential addition to their school reform libraries.

Contents

1. Introduction--Higher Education and School Reform: A Missing Voice

P. Michael Timpane and Lori S. White

2. School/University Partnerships in Historical Perspective

Theodore R. Mitchell and Lawrence Torres

3. The Role of State Policy Systems in Fostering Separation or Collaboration

Patrick M. Callan

4. School and College Partnerships

Kati Haycock

5. The Challenge Teacher Education Presents for Higher Education

Frank B. Murray

6. School Improvement and Higher Education

David K. Cohen

7. Enhanced Academic Connections: Deweyan Waste, Ecological Pipelines and Intellectual Vitality

Donald M. Stewart & Michael Johanek

8. Higher Education and the School: An Alien Commentary

Harry Judge

Epilogue: Practical Actions While Awaiting the Millenium

P. Michael Timpane and Lori S. White
See More
Introduction--Higher Education and School Reform: A Missing Voice (P. Timpane & L. White).

School/University Partnerships in Historical Perspective (T. Mitchell & L. Torres).

The Role of State Policy Systems in Fostering Separation or Collaboration (P. Callan).

School and College Partnerships (K. Haycock).

The Challenge Teacher Education Presents for Higher Education (F. Murray).

School Improvement and Higher Education (D. Cohen).

Enhanced Academic Connections: Deweyan Waste, Ecological Pipelines and Intellectual Vitality (D. Stewart & M. Johanek).

Higher Education and the School: An Alien Commentary (H. Judge).

Epilogue: Practical Actions While Awaiting the Millenium (P. Timpane & L. White).
See More
P. MICHAEL TIMPANE is senior education advisor at RAND Corporation. He has formerly served as vice president of The Carnegie Foundation for the Advancement of Teaching and president of Teachers College, Columbia University. LORI S. WHITE is director of undergraduate advising at Stanford University. Previously she served as director of student programs at Georgetown University, and assistant dean of students at University of California, Irvine.
See More