Textbook
The 21st Century Health Care Leader
ISBN: 978-0-7879-4157-4
432 pages
April 1999, ©1999, Jossey-Bass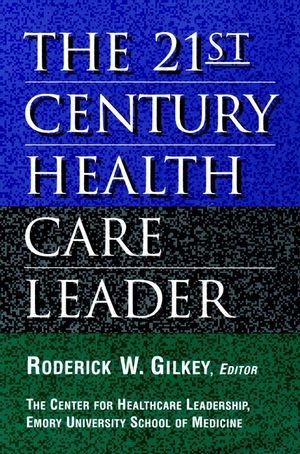 Discover how top health care leaders envision the decades ahead and ensure your future as a 21st century health care leader. The 21st Century Health Care Leader brings together today's most influential and successful health care professionals whose valuable insight will assist current and future leaders exchange reactivity for proactivity, remain effective, and transform their organizations.

In 37 original chapters, this distinguished group of contributors describe the skills and competencies that will be required of tomorrow's health care executives and caregivers who desire to renew their organizations. With insight and candor, the authors show what it will take to prevail as a health care leader of tomorrow. Meet the myriad challenges of health care delivery including how to eliminate unnecessary duplication, competition, and inefficiency. In addition, health care professionals will learn how they can combine creativity and knowledge to design new business approaches and innovative organizations.

The 21st Century Health Care Leader offers a unique and compelling perspective on health care leadership and a powerful tool for any leader who wants to guarantee their future in the health care industry.
See More
Preface
Acknowledgments
The Editor
Introduction
Part One: Navigating to a New Century
The Three C's: Consumerism, Cyberhealth, and Co-Opetition(Russell C. Coile Jr.)
Forces and Scenarios That Will Shape Helath Services Delivery(Joe Flower)
Policy Challenges(Joel Shalowitz)
Ethical Values for a New Century(Lawrence O. Gostin)
Preparing for the Global Health Transition(Kent Glenzer, Maurice I. Middleberg)
Public and Community Health(William H. Foege, Mark Rosenberg)
Part Two: The New Health Care Organization
What Comes After Consolidation?(Jeffrey C. Barbakow)
Growing Effective Leadership in New Organizations(John D. Henry Sr., Rodrick W. Gilkey)
Reinventing the Academy(Darrell G. Kirch)
Leading Academic Health Centers(Michael Johns, Thomas J. Lawley)
Decisions for Insurers(Patrick G. Hays)
Seeing Insurance Through the Customer's Eyes(Leonard D. Schaeffer, L. Carl Volpe)
Leadership Skills and Strategies for the Integrated Community Health System(Paul K. Halverson)
Alliance in a Changing Industry(Arnold D. Kaluzny, Howard S. Zuckerman)
Part Three: Serving Special Populations
Challenges for Women's Health(Gloria Feldt)
Fulfilling a Women's Health AgAnda(Wanda K. Jones)
Caring for an Aging Population(Martha A. McSteen)
Geriatric Care(William L Minnix Jr.)
New Perspectives for Long-Term Care(Lorraine Tarnove)
Rural Health Systems(Jon B. Christianson, Anthony L. Wellever)
Part Four: Technology Leaders
The Evolving Role of Health Information(Charles W. McCall, Ellen S. Dodson)
Wiring the Health Revolution(Morton H. Meyerson)
Strategic Health Care Computing(Russell J. Ricci)
Technology-Induced Ethical Questions(Stephen R. Latham)
Part Five: Clinical Leaders
Challenges to Physician Leaders(Thomas R. Reardon)
Core Competencies for Physicians(Edward O'Neil)
The Future of Nursing(Marjorie Beyers)
Transforming Nursing Leadership(Marilyn P. Chow, Janet M. Coffman, Robin L. Morjikian)
Part Six: Gaining New Skills
Leading Across the Network(Marshall Goldsmith)
Four Dimensions of Lasting Change(Karen Golden-Biddle, R. Mark Biddle)
Developing Organizations by Developing Individiuals(Elaine Franklin, Robbin M. Moore)
The Changing Dynamics of Customer Staisfaction and Its Measurement(Charles D. Frame)
BlAnding Health Care Organizations(Rodrick W. Gilkey, Gary R. Lieberman)
Part Seven: Managed Care: Answers and Questions
Regaining the Public's Trust in Managed Care(David M. Lawrence)
The New Health Economics(Merill Matthews Jr.)
Managed Care and the Black Physician(Randall C. Morgan Jr.)
Leading Behavioral Health Services(Keith Dixon)
Name Index
Subject Index
See More
RODERICK W. GILKEY is executive director of the Center for Healthcare Leadership and associate clinical professor of psychiatry at Emory University School of Medicine.
See More
Learn more about