Creating and Benefiting from Institutional Collaboration: Models for Success: New Directions for Community Colleges, Number 103
ISBN: 978-0-7879-4236-6
97 pages
November 1998, Jossey-Bass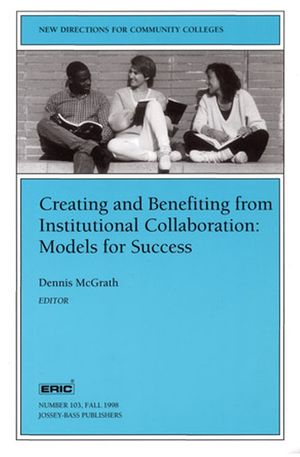 Collaboration allows organizations to leverage scarce resources, reduce costs, link complementary competencies, and increase speed and flexibility-but collaboration can also deeply affect the internal structure, management style, identity, and mission of participating institutions as they learn to coordinate their collective resources. This volume of
New Directions for Community Colleges
examines the many ways collaboration both benefits and alters the participating organizations, offering practical examples and lessons learned that can be used by a variety of institutions in their efforts to foster collaborative relationships. The authors explore how the community college can serve as a nexus between high schools and four-year institutions; how neighborhood-based collaborations can promote access and educational opportunity for at-risk students; how to integrate collaboration into the leadership role of the community college president; and much more.
This is the 103rd issue of the quarterly journal New Directions for Community Colleges.
See More
1. Lessons from a Long-Term Collaboration(Lindsay M. Wright, Rona Middleberg)
2. Creating Structural Change: Best Practices(Janet E. Lieberman)
3. An Urban Intervention That Works: The Bronx Corridor of Success(Michael C. Gillespie)
4. The Role of Rural Community Colleges in Expanding Access and Economic Development(Hector Garza, Ronald D. Eller)
5. The Partnership Paradigm: Collaboration and the Community College(Sara Lundquist, John S. Nixon)
6. The Collaborative Leader(Carolyn Grubbs Williams)
7. Building Local Partnerships: Contributions of a National Center(Barbara Schaier-Peleg, Richard A. Donovan)
8. Funding Collaboratives(L. Steven Zwerling)
9. No Pain, No Gain: The Learning Curve in Assessing Collaboratives(Laura I. RAndon, WAndy L. Gans, Mistalene D. Calleroz)
10. Sources and Information: Community Colleges and Collaboration(Erika Yamasaki)

See More
DENNIS MCGRATH is professor of sociology at the Community College of Philadelphia and senior fellow for assessment at the National Center for Urban Partnerships.
See More
Learn more about