The Experience of Being in Graduate School: An Exploration: New Directions for Higher Education, Number 101
ISBN: 978-0-7879-4247-2
120 pages
June 1998, Jossey-Bass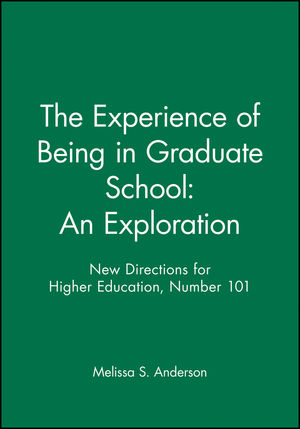 There is much at stake in the graduate enterprise. Here students are prepared to become leaders, professionals, researchers, and scholars who will be responsible for the advancement of our knowledge and well-being. But what of the students themselves? What do they go through in graduate school? What is the graduate experience like? This volume addresses the graduate experience from the standpoint of the students themselves. From a variety of perspectives and across many fields of study, these chapters present what students have reported about their experience through interviews, surveys, ongoing discussions, and autobiographies. This is the 101st issue of the quarterly journal New Directions for Higher Education.
See More
1. Reflections on the Graduate Student Experience: An Overview(Melissa Anderson)
2. "Grand Possibilities and Perilous Business": Academic Autobiographers on Graduate Education(Steven Weiland)
3. Survival Skills for Graduate School and Beyond(Beth A. Fischer, Michael J. Zigmond)
4. Developing Self-Authorship in Graduate School(Marcia B. Baxter Magolda)
5. Beginning Graduate School: Explaining First-Year Doctoral Attrition(Chris M. Golde)
6. Students' Perspectives on Their Master's Degree Experiences: Disturbing the Conventional Wisdom(Clifton F. Conrad, Katherine M. Duren, Jennifer Grant Haworth)
7. Preparing College Faculty(Jerry G. Gaff, Anne S. Pruitt-Logan)
8. Best Practices for Enculturation: Collegiality, Mentoring, and Structure(Peg Boyle, Bob Boice)
9. If We Want Things to Stay as They Are, Things Will Have to Change(Jules B. LaPidus)

See More
MELISSA S. ANDERSON is associate professor of higher education at the University of Minnesota. Her current research includes the Academic Life Project (an NSF-funded longitudinal study of the doctoral experience), as well as continuing work on academic-industry relationships and faculty demography in academic departments.
See More
Learn more about