The Growing Use of Part-Time Faculty: Understanding Causes and Effects: New Directions for Higher Education, Number 104
ISBN: 978-0-7879-4249-6
107 pages
January 1999, Jossey-Bass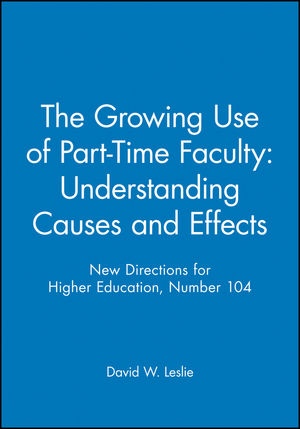 Part-time and temporary faculty now constitute a majority of all those teaching in colleges and universities. This volume presents analyses of the changes in academic work, in faculty careers, and in the economic conditions in higher education that are associated with the shift away from full-time academic jobs. Issues for research, policy, and practice are discussed.
The chapters in this volume were originally prepared for a conference on part-time and adjunct faculty sponsored by the Alfred P. Sloan Foundation.
This is the 104th issue of the quarterly journal New Directions for Higher Education.
See More
Using Part-Time Faculty More Effectively (F. Jacobs).
A Framework for Assessing Trends in Academic Careers (J. Lawrence).
The Changing Pattern of Employment Relations (M. Rasell & E. Appelbaum).
The Subfaculty (D. Langenberg).
Variations in the Characteristics of Part-Time Faculty by General Fields of Instruction and Research (E. Benjamin).
Implications for Knowledge Production and Careers in Science (C. Gaddy).
Two-Tiered Faculty Systems and Organizational Outcomes (P. Tolbert).
Part-Time Faculty, Quality Programs, and Economic Realities (J. Haeger).
Adjunct Faculty in the Community College: Realities and Challenges (B. Wyles).
New Directions for Research, Policy Development, and Practice (D. Leslie).
See More
DAVID W. LESLIE is professor of education at the College of William and Mary in Williamsburg, Virginia.
See More
Learn more about