The Search for Common Values at Winnetka: One District Challenges Its Traditions, Practices: New Directions for School Leadership, Number 8
ISBN: 978-0-7879-4273-1
104 pages
September 1998, Jossey-Bass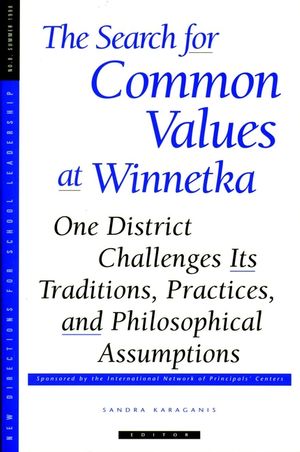 When the Winnetka Public School system reexamined its philosophy, questions were raised about the alignment between theory and practice. As teachers attempted to determine if they truly walk the talk,
they began to view their practice as dynamic and subject to a variety of personal and professional influences that create change over time. This sourcebook represents the thinking of professionals who are first and foremost teachers. Their thoughtful discussions demonstrate that the philosophy's validity rests on our ability to analyze what we are, discover how we came to be what we are, and imagine what we will become. By working along common lines and with a common spirit, teachers acknowlege that the reexamination of a philosophy can be tested only in action, and within this process, not only the form of teaching, but its meaning as well, will be altered. This is the 8th issue of New Directions for School Leadership.
See More
1. Promises We Can Keep(Sandra Karaganis)
2. The Process of Reflection at the District Level(Mary Ann Manley)
3. In the Eyes of One Parent(Kelley Fead)
4. The Roots of Tradition: A Washburne Legacy(William G. Meuer)
5. Voices of the Teachers (Idyth Zimbler)
6. Transitions: Influences, Inspirations, and Inquiries
Educating for Democracy(Daniel Schwartz)
Education in the Fine Arts(Sanae Willoughby)
A New Beginning and a Happy Ending(Ernie Love)
Everything Matters(Merle Scharmann)
Technology Challenge(Robert Golden)
Answers from the Rain Forest(Marjorie Steiner)
An Essay on Integrated Curriculum(Andrea Saiet)
Pioneers of Our Learning: Nineteen Years of the Winnetka Teachers Institute(Winnetka Teachers)
7. Transformations and Unanswered Questions: A Framework for Direction(Rebecca van der Bogert)
AppAndix A: Winnetka: A Community of Learners
AppAndix B: Winnetka School District Survey

See More
SANDRA KARAGANIS is principal of Samuel Sewall Greeley Elementary School in Winnetka, Illinois, and chairs the "Winnetka: A Community of Learners" Task Force.
See More