Democracy's Edge: Choosing to Save Our Country by Bringing Democracy to Life
ISBN: 978-0-7879-4311-0
496 pages
November 2005, Jossey-Bass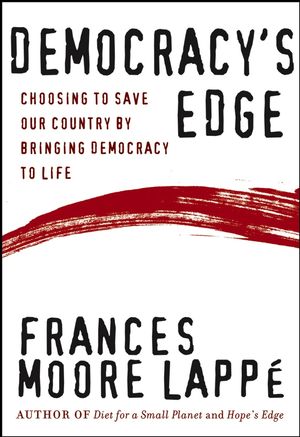 Three out of five Americans, both Republicans and Democrats, feel our country is headed in the wrong direction. America is at the edge, a critical place at which we can either renew and revitalize or give in and lose that most precious American ideal—democracy—and along with it the freedom, fairness, and opportunities it assures.
Democracy's Edge
is a rousing battle cry that we can—and must—act now.  From Jefferson to Eisenhower, presidents from both parties have warned us of the danger of letting a closed, narrow group of business and government officials concentrate power over our lives. Yet today, a small and unrepresentative group of people is making vital decisions for all of us.
But this crisis is only a symptom, Lappé argues. It's a symptom of thin democracy, something done to us or for us, not by or with us. Such democracy is always at risk of being stolen by private interests or extremist groups, left and right.  But there is a solution. The answer, says Lappé, is Living Democracy, a powerful yet often invisible citizens' revolution surging in communities across America. It's not random, disjointed activism but the emergence of a new historical stage of democracy in which Americans realize that democracy isn't something we have but something we do. Either we live it or lose it, says Lappé.
See More
Acknowledgments ix
The Path xi
PART ONE Living on Democracy's Edge 1
Our journey to the edge and the forces making possible an invisible revolution of hope
1. The Frame 3
2. The Long Arc 13
3. Power Is Not a Four-Letter Word 29
PART TWO Democracy Growing Up 49
Outgrowing four beliefs that stymie us and discovering that power, even corporate power, isn't so stuck after all
4. Our Coat 51
5. The Elephant 77
PART THREE Democracy as a Verb 109
It's not what we have, it's what we do. Americans seize the rewards of self-direction
6. Attention 111
7. Action 151
8. Choice 183
9. Voice 219
PART FOUR Democracy in Our Bones 249
Americans create a culture of empowered, connected people
10. Learning 251
11. Security 277
12. The Invitation 309
Two Frames for Democracy 319
Toward a Language of Democracy 321
Notes 325
Entry Points for Living Democracy 405
The Author 451
Index 453
See More
Frances Moore Lappé, author of fifteen books, has received seventeen honorary doctorates and was the fourth American to receive the Right Livelihood Award, called the Alternative Nobel Prize. She is cofounder of Food First, the American News Service, and the Small Planet Institute, www.smallplanetinstitute.org.
See More
"There is a small number of people in every generation who are forerunners in thought, action, spirit, who swerve past the barriers of greed and power to hold a torch high for the rest of us. Frances Moore Lappé is one of those. Her writing has done that again and again. Here, in her latest work, she brings the familiar eloquency of expression, simplicity of language, poetic and passionate, to our nation's most urgent problem, the reclaiming of democracy."
--Howard Zinn, author,
A People's History of the United States
"Make no mistake, this is a very powerful book, and its scope and vision are huge. In this century you will see the job of citizens is to keep their mouth open and their capacity to be heard in every discussion that will shape their lives. This book about finding our voices where everyone concerned about democracy, are no longer merely passive onlookers but dedicated participants Democracy's Edge, thank God, is beautifully written. It gives us the language we need to reclaim our democracy and for seeing where our real democracy lies—in the grassroots, in the communities where creative solutions to social problems are a-plenty. Please, please, please make this audacious book a priority, for it is written with the most careful and tender feelings about what we are all so near to losing – our democracy."
--Dame Anita Roddick, founder, The Body Shop
"America is lost in a gnarled thicket of bought politicos, corporate con men and media hucksters. But we're lucky: Lappé has drawn the map that will get us out alive. Read it and get going"
--Greg Palast, author, The Best Democracy Money Can Buy
"Our country is suffering from a serious 'democratic deficit.' a widening gulf between public opinion and public policy—and what ails America necessarily ails the world. A great many people do not like what is happening to their lives and their country, and what is being done in their name, but feel isolated and helpless, victims of forces beyond their control. With the clear thinking, plain talk, and penetrating insight that we have come to expect from her work, Frances Moore Lappé confronts these fundamental problems directly and constructively. It is both a guide to the perplexed, and a guide to action."
--Noam Chomsky
"Lappé is a pioneer in democratic thought and action."
--Cornel West, University Professor of Religion, Princeton University
"Extraordinary, Frances Moore Lappé, the brilliant woman who broke upon the story of global hunger with her Diet for a Small Planet, has now burst forth with a provocative and exciting new approach to reviving democracy. She reminds us that a robust and wholesome democracy is what delivers a good life to a nation's citizenry. Her challenge to us is to reinvigorate our thinking, to take individual actions, and to participate every day as citizens. She offers hope for those of us who believe that civic society is at the root of a health government."
--Amy Domini, founder and CEO, Domini Social Investments
"Frances Moore Lappé believes deeply that true democracy is more than simply as set of institutions or a political system. It is the active engagement and voice of ordinary citizens in the decisions that shape their lives and communities. Democracy's Edge is an exciting and hopeful account of the rebirth of a living American democracy as people connect with each other around the country to solve problems and build a better society. An important part of that rebirth is a new and growing movement by people of faith who are putting their faith into action for the common good."
--Jim Wallis, author, Gods Politics and editor, Call to Renewal
"I am invigorated by this book. Lappé's idea of drawing the corporation into democracy's fold is a challenge I hope all of us will take up as our own. There is no more important task for us to embrace today."
--Marjorie Kelly, editor, Business Ethics, and author, The Divine Right of Capital 
"With an abundance of inspiring, well-told stories, Lappé sweeps the disempowering myth that an individual can't make a difference and demonstrates that democracy is a living practice. Essential reading for all who believe that democracy in America would be a good idea."
--David C. Korten, board chair, YES! A Journal of Positive Futures 
"Frankie Lappé has a gift for synthesizing complex ideas into accessible and inspiring simplicity. Living Democracy is an excellent primer on what our democracy was intended to be, where it went astray, and what needs to happen (and is in fact already happening below the radar of mainstream media) for democracy to come alive. Read, take hope and take action!"
--Nina Utne, chair, Utne Magazine
See More
Instructors Resources
Welcome to the Web site for Democracy's Edge: Choosing to Save Our Country by Bringing Democracy to Life by Frances Moore Lappe.
See More