With the Phoenix Rising: Lessons from Ten Resilient Women Who Overcame the Trauma of Childhood Sexual Abuse
ISBN: 978-0-7879-4784-2
272 pages
July 1999, Jossey-Bass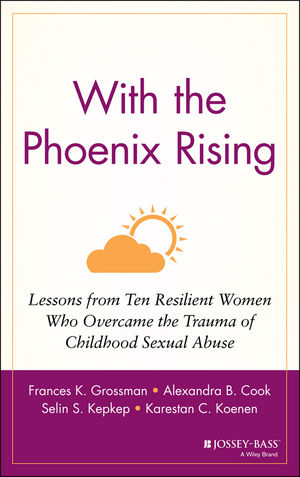 The devastating effects of childhood sexual abuse have been widely chronicled, validating the difficulty with which many survivors struggle. Often overlooked are the millions of women who have overcome early trauma to lead successful, happy lives. Why do these women-whom we might otherwise have expected to fail-have such tremAndous strength and resilience? This question is at the heart of With the Phoenix Rising as it paints a moving and optimistic portrait of ten women who have overcome the trauma of childhood sexual abuse and shows how their resilient success can be encouraged in others who have suffered similar traumas.
See More
Contents.

Preface.

Part One: Setting the Stage.

1. Resiliency.

2. The Women's Stories.

Part Two: Safe Havens, Important Relationships.

3. School and Work.

4. Intimate Relationships.

5. Relationships with Children.

6. Relationships Outside the Family.

Part Three: Processes and Strategies for Developing Resiliency.

7. The Role of Psychotherapy.

8. The Management of Feelings.

9. The Importance of Self-Care.

10. Making Sense of the Abuse.

Part Four: A Lifelong Process.

11. Revisiting the Participants.

Appendix: Research Methodology.

References.

About the Authors.

Index.
See More
"Through its emphasis on survivors' strengths and resilience over the life course, this book brings a new focus to the study of child sexual abuse. Therapists, researchers, and survivors will gain an important understanding of resiliency in the context of family, community, and women's lives. The authors give voice to women who have overcome the trauma of abuse." --Linda M. Williams, director of research, the Stone Center, Wellesley College

"This important book breaks new ground. . . . For any reader wishing to be inspired by stories of the human spirit's triumph over adversity." --Daniel Brown, Harvard Medical School, Simmons School of Social Work

"The women's voices of With the Phoenix Rising bring to life the spirit and hope every survivor can discover. This wonderful book has something to offer new clinicians as well as seasoned trauma professionals." --Linda T. Sanford, author of Strong at the Broken Places

"Full of practical wisdom and perspective for trauma clinicians working with all trauma survivor groups. Survivors will find their strengths and dignity cherished without the slightest aid-and-comfort given to perpetrators and their apologists. With the Phoenix Rising palpably enlarges what we know about how a trauma survivor can construct a good human life." --Jonathan Shay, staff psychiatrist, Department of Veteran Affairs; author of Achilles in Vietnam: Combat Trauma and the Undoing of Character
See More