Preparing Department Chairs for Their Leadership Roles: New Directions for Community Colleges, Number 105
ISBN: 978-0-7879-4846-7
85 pages
May 1999, Jossey-Bass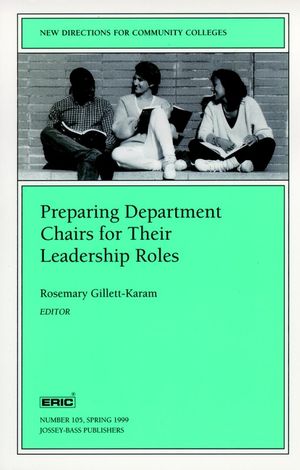 Midlevel managers in the community college often find themselves unprepared for the responsibilities of their complex position. This volume of
New Directions for Community Colleges
presents the qualities that experienced department chairs cite as being crucial to success and makes a persuasive argument for the need to develop formal training programs for people newly appointed to these positions. The authors discuss leadership theories that can inform and inspire the practice of community college chairs, and they offer a variety of effective leadership development programs designed specifically to meet the unique training needs of midlevel managers in the community college.
This is the 105th issue of the Jossey-Bass series New Directions for Community Colleges.
See More
1. Midlevel Management in the Community College: A Rose Garden? (Rosemary Gillett-Karam).
2. Meeting the Millennium's Challenge: Leading from Where You Are (Robin L. Spaid & Michael H. Parsons).
3. The Practitioner's Guide to Midlevel Management Development (Mary S. Spangler).
4. A Statewide Survey of New Department Chairs: Their Experiences and Needs in Learning Their Roles (Albert B. Smith & Gloria A. Stewart).
5. College Presidents Examine Midlevel Management in the Community College (Rosemary Gillett-Karam, et al.).
6. The Need for Leadership Training: The Evolution of the Chair Academy (Gary L. Filan).
7. Situating Midlevel Managers' Training: Learning and Doing in Context (John M. Pettitt).
8. Understanding Managerial Leadership as More Than an Oxymoron (Erika Yamasaki).
9. Sources and Information on Midlevel Managers in the Community College (Elizabeth Foote).
See More
ROSEMARY GILLETT-KARAM is president, Louisburg College, Louisburg, North Carolina.
See More
Learn more about