Best Practices in Higher Education Consortia: How Institutions Can Work Together: New Directions for Higher Education, Number 106
ISBN: 978-0-7879-4858-0
125 pages
July 1999, Jossey-Bass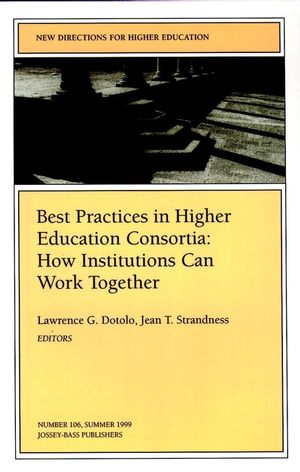 Academic consortia offer colleges and universities the opportunity to share resources--and thus save money and increase efficiency without sacrificing program quality. This volume of New Directions for Higher Education gives detailed accounts of activities and programs that existing consortia have already refined, providing practical models that can be replicated or modified by other institutions. Drawing from first-hand experience, the authors describe how to start and sustain a consortium, and share the benefits and lessons learned from consortial collaborations in areas such as library cooperation, cross-registration, the use of technology, the joint purchasing of goods and services, admissions and recruitment practices, and faculty development.
This is the 106th issue of the quarterly journal New Directions for Higher Education.
See More
1. Starting and Sustaining a Consortium(Frederick Baus, Claire A. Ramsbottom)
2. The Role of the Consortium Director(Thomas R. Horgan)
3. Library Cooperation(Neil R. Wylie, Tamara L. Yeager)
4. Cross-Registration and Joint Academic Programs(Jean T. Strandness)
5. Collaborative Admissions and Recruitment Practices(Barbara Bradley Stonewater)
6. Faculty Development: Working Together to Improve Teaching and Learning(Lawrence G. Dotolo)
7. Consortial Fundraising(Lorna M. Peterson)
8. Cooperation for Cost-Effectiveness in Purchasing(Mitch Dorger)
9. Statewide Consortia for the Use of Technology(Patricia Widmayer)
10. Technology, Consortia, and the Relationship Revolution in Education(Galen C. Godbey, Gerald J. Richter)
11. Economic Development and Consortia(Allan Watson, Linda Jordan)
12. Cooperating Internationally(Wayne Anderson)
13. What Small Colleges Can Do Together(Anneke J. Larrance)

See More
LAWRENCE G. DOTOLO is president of the Virginia Tidewater Consortium for Higher Education and serves as executive director of the Association for Consortium Leadership, with offices at Old Dominion University, Norfolk, Virginia. JEAN T. STRANDNESS is provost of the Tri-College University consortium in Moorhead, Minnesota and Fargo, North Dakota.
See More
Learn more about