Teaching and Learning On the Edge of the Millennium: Building On What We Have Learned: New Directions for Teaching and Learning, Number 80
ISBN: 978-0-7879-4874-0
107 pages
February 2000, Jossey-Bass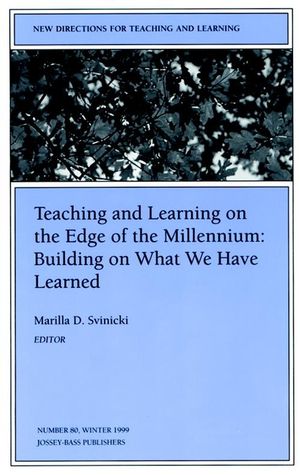 In honor of the new century and the twentieth anniversary of New Directions for Teaching and Learning, this issue reviews the past and current research on teaching, learning, and motivation, and envisions where the field is headed in the next century. Chapters revisit the topics from the best-selling NDTL issues, offering the latest developments in group-based learning, effective communication, teaching for critical thinking, the seven principles for good practice in undergraduate education, teaching for diversity, and teaching in the information age.
This is the 80th issue of the quarterly journal New Directions for Teaching and Learning .
See More
PART ONE: Theory and Research on Learning and Teaching.
1. New Directions in Learning and Motivation(Marilla D. Svinicki).
2. New Directions for Theory and Research on Teaching: A Review of the Past Twenty Years(Michael Theall ).
PART TWO: A Reprise of Popular topics: Where Are They Now?.
3. Group-Based Learning (Russell Y. Garth).
4. Can We Teach Without Communicating?(Jean M. Civikly-Powell).
5. Teaching for Critical Thinking: Helping College Students Develop the Skills and Dispositions of a Critical Thinker(Diane F. Halpern).
6. Development and Adaptations of the Seven Principles for Good Practice in Undergraduate Education(Arthur W. Chickering, Zelda F. Gamson).
7. Taking Diversity Seriously: New Developments in Teaching for Diversity(Laura L. B. Border ).
8. Teaching in the Information Age: A New Look(Michael J. Albright).
PART THREE: And Now What?.
9. New Directions for New Directions?(Marilla D. Svinicki).
See More
MARILLA D. SVINICKI is editor-in-chief of the New Directions for Teaching and Learning series and is director of the Center for Teaching Effectiveness and senior lecturer in the Department of Educational Psychology at the University of Texas at Austin.
See More
Learn more about