What Contributes to Job Satisfaction Among Faculty and Staff: New Directions for Institutional Research, Number 105
ISBN: 978-0-7879-5438-3
120 pages
July 2000, Jossey-Bass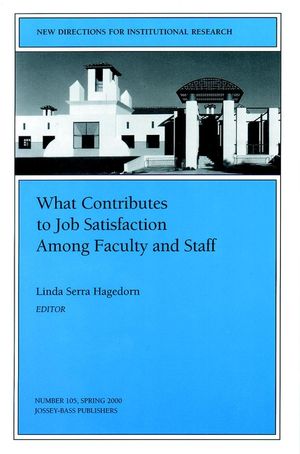 the attention of college trustees and administrators as well as the general public has turned largely to increasing positive student outcomes and cost effectiveness, while the satisfaction of faculty and staff has been viewed as a significantly lesser concern. This volume argues that positive outcomes for the entire campus can only be achieved within an environment that considers the satisfaction of all of those employed in the academy. The contributors examine various jobs within the campus community-including classified staff and student affairs administrators as well as faculty-and suggest factors that will promote job satisfaction and thereby foster other positive outcomes. They review, for example, the positive relationship between sabbatical leave and the development and satisfaction of faculty. They also explore the role of the faculty union in the satisfaction of community college faculty, the unique challenges to achieving satisfaction that face women faculty members and faculty of color, and other key issues. This is the 105th issue of the quarterly New Directions for Institutional Research.
See More
1. Conceptualizing Faculty Job Satisfaction: Components, Theories, and Outcomes (Linda Serra Hagedorn).
2. Aren't You Satisfied Yet? Women Faculty Members' Interpretations of Their Academic Work (Becky Ropers- Huilman).
3. Faculty Satisfaction in Academic Medicine (Julie G. Nyquist, Maurice A. Hitchcock, Arianne Teherani).
4. Community College Faculty Satisfaction and the Faculty Union (Consuelo Rey Castro).
5. Job Satisfaction Among Faculty of Color in Academe: Individual Survivors or Institutional Transformers? (Berta Vigil Laden, Linda Serra Hagedorn).
6. The Role and Benefits of the Sabbatical Leave in Faculty Development and Satisfaction (Celina M. Sima).
7. The New Faculty Majority: Somewhat Satisfied but Not Eligible for Tenure (Judith M. Gappa).
8. The Front Line: Satisfaction of Classified Employees (Karen W. Bauer).
9. Factors That Influence Satisfaction for Student Affairs Administrators (Janet E. Anderson, Florence Guido-DiBrito, Jean Schober Morrell).
See More
LINDA SERRA HAGEDORN is associate professor of higher education and senior research associate at the Center for Higher Education Policy Analysis at the University of Southern California. She is also chair of the Community College Leadership program.
See More
Learn more about