Variability in the Social Construction of the Child: New Directions for Child and Adolescent Development, Number 87
ISBN: 978-0-7879-5506-9
112 pages
April 2000, Jossey-Bass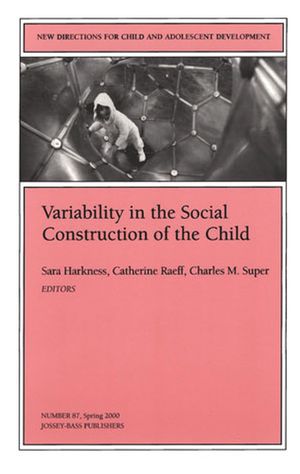 Responding to the need for more research into sociocultural influences on ideas about children, this volume analyzes data from America, Japan, Columbia, Israel and the Netherlands to explore variations within and between cultures in how parents, teachers and others think about children. With a particular focus on the dichotomy between individualism and collectivism , the contributors examine such questions as: Can variability in ideas about children best be conceptualized in terms of universal categories, or is each socially constructed concept of the child unique? At what social level can these variations best be identified on a global, West vs. East level, or between classes and cultural groups within individual societies, or between social groups at the community level? And how are these varying socially constructed images of the child expressed?
This is the 87th issue of the quarterly journal New Directions for Child and Adolescent Development.
See More
Editor's Notes 1
Sara Harkness, Catherine Raeff, Charles M. Super
1 Independence and Interdependence in Diverse Cultural Contexts 5
Melanie Killen, Cecilia Wainryb
2 Individualism and the "Western Mind" Reconsidered: American and Dutch Parents' Ethnotheories of the Child 23
Sara Harkness, Charles M. Super, Nathalie van Tijen
3 Homogeneity and Heterogeneity in Cultural Belief Systems 41
Robin L. Harwood, Axel Scholmerich, Pamela A. Schulze
4 Conceptualizing Interpersonal Relationships in the Cultural Contexts of Individualism and Collectivism 59
Catherine Raeff, Patricia Marks Greenfield, Blanca Quiroz
5 Uniformity and Diversity in Everyday Views of the Child 75
Kelvin L. Seifert
6 Cross-Cultural Conflict and Harmony in the Social Construction of the Child 93
Patricia Marks Greenfield, Blanca Quiroz, Catherine Raeff
Index 109
See More
SARA HARKNESS is professor in the Schoolof Family Studies and director of the Center for the Study of Culture, Health, and Human Development at the University of Connecticut.
CATHERINE RAEFF is a former postdoctoral fellow in applied developmental psychology at the University of California, Los Angeles. She is now assistant professor of psychology at Indiana University of Pennsylvania.
CHARLES M. SUPER is professor and dean in the School of Family Studies at the University of Connecticut.
See More