Building Your Direct Mail Program: Excellence in Fund Raising Workbook Series
ISBN: 978-0-7879-5529-8
112 pages
April 2001, Jossey-Bass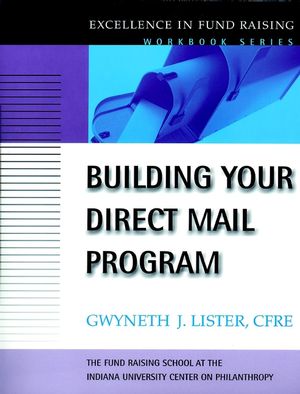 Understanding Direct Mail Fund Raising.

Creating Your Case for Support.

Identifying Your Donors.

Building Your Donor Base.

Assembling the Direct Mail Package.

Planning Your Mailings.

Assessing Your Costs.

Testing and Evaluating Your Direct Mail Efforts.

Thanking Your Donors.

Putting It All Together.

Resources.
See More
GWYNETH J. LISTER is an adjunct faculty member of the University of San Francisco's College of Professional Studies and Indiana University's Fund Raising School. She has worked in the nonprofit field for more than twenty-five years as a development director and executive director, and, since 1987, as director of her consulting firm Accelerated Income Methods (AIM). Lister is a past recipient of the "Outstanding Fundraising Executive Award" from the National Society of Fund raising Executives Golden Gate Chapter.
See More
"Following the steps in this workbook will enable you to use direct mail effectively in building a broad base of donors. Lister's long and varied experience will help novice and experienced professionals alike." --Kim Klein, publisher, Grassroots Fundraising Journal

"When I started volunteering more than twenty-five years ago, I had very few resources to help me be a successful direct mail fund raiser. If I had Building Your Direct Mail Program then, I know I could have doubled the money we raised. This book will give any nonprofit a clear, easy plan to follow that will make their direct mail campaign a success." --Ann Cameron, banker and volunteer board president, La Clinica de la Raza

"Yes! Volunteers and professionals alike are taken on a step-by-step process that actually moves you by leaps and bounds toward accomplished direct mail practice."l --Skip Henderson, fund raising teacher, University of San Francisco and Indiana University's Fund Raising School
See More