Approaching Foundations: Suggestions and Insights for Fundraisers: New Directions for Philanthropic Fundraising, Number 28
ISBN: 978-0-7879-5635-6
110 pages
May 2001, Jossey-Bass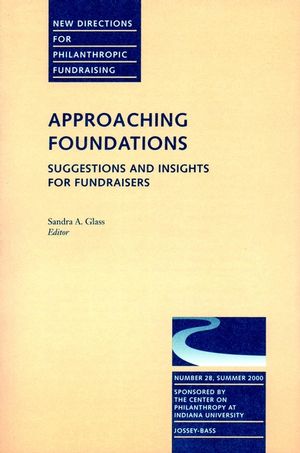 This issue presents valuable insight into the processes of foundation fundraising and provides practical suggestions that will be helpful to new and experienced fundraisers. The authors discuss preparation and submission of applications, but also strongly emphasize preparations and tasks that organizations need to complete before beginning to approach foundations.
See More
1. Foundation fundraising for new organizations James C. Murphy
2. Family foundations: A case study approach Charles S. Weiss
3. Securing foundation support for medical programs Teresa Kemp Zielenski, Mary Anne Hohman
4. Raising money internationally: Foundations and beyond Patrick O'Heffernan
5. How resources affect and stimulate collaboration Pamela A. Wuichet
6. Preperation before proposal writing Patricia Martin
7. Universities and foundation support: Working with faculty and administrators John C. Schneider
8. Writing the proposal of the future Meredith Roche

See More
SANDRA A. GLASS is an independent philanthropy adviser who works with universities, colleges, and agencies on improving their foundation fundraising and with new and expanding foundations on refining their policies and procedures. She is program vice president emerita of the W. M. Keck Foundation, where she guided higher education programs in science, engineering, and liberal arts for sixteen years. She also worked in development and administration at the Claremont Colleges for ten years.
See More