Techniques and Strategies for Interpreting Student Evaluations: New Directions for Teaching and Learning, Number 87
ISBN: 978-0-7879-5789-6
103 pages
October 2001, Jossey-Bass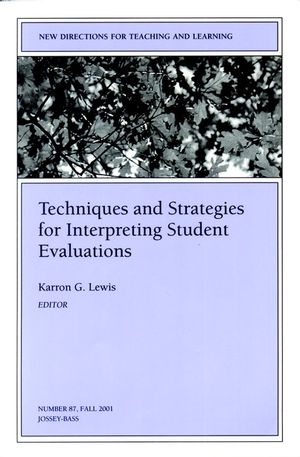 Examines the critical subject of student evaluations of teaching, furnishing both the research base behind the use of student ratings and practical suggestions for interpreting the data they provide. Focuses on all phases of the student rating process - from data gathering methods to presentation of results. Topics include methods of encouraging meaningful evaluations, midsemester feedback, uses of quality teams and focus groups, and creating questions that target individual faculty needs and interest. With a humorous look at the popular myths surrounding student evaluations and emerging research on what is known concerning student evaluations and their use, this volume argues that the evaluation of teaching is a learning process in itself.

This is the 87th issue of the Jossey-Bass series New Directions for Teaching and Learning.
See More
EDITOR'S NOTES (Karron G. Lewis).

1. Faculty Thoughts and Concerns About Student Ratings (John C. Ory).

2. Encouraging Your Students to Give Feedback (Marilla D. Svinicki).

3. Making Sense of Student Written Comments (Karron G. Lewis).

4. Using Midsemester Student Feedback and Responding to It (Karron G. Lewis).

5. Use of Electronic Tools to Enhance Student Evaluation Feedback (Devorah Lieberman, Nancy Bowers, David R. Moore).

6. Taking Student Criticism Seriously: Using Student Quality Teams to Guide Critical Reflection (Larry Spence, Lisa Firing Lenze).

7. Making Sense and Making Use of Feedback from Focus Groups (Richard Tiberius).

8. Writing Teaching Assessment Questions for Precision and Reflection (William L. Rando).

9. Interpreting the Numbers: Using a Narrative to Help Others Read Student Evaluations of Your Teaching Accurately (Jennifer Franklin).

INDEX.
See More
Learn more about