The Conscious Consultant: Mastering Change from the Inside Out
ISBN: 978-0-7879-5880-0
256 pages
September 2001, Pfeiffer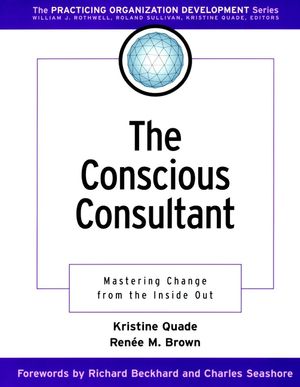 Find out what it takes to become an effective consultant!
In order to succeed as a change agent and consultant we must clarify our own purpose, motivation, and relationship with our careers. The Conscious Consultant--a book in The Practicing Organization Development Series--offers a much-needed road map and powerful tool that consultants can use to perform a personal assessment of foundational principles in order to achieve greater integrity and alignment with personal values and career. The book's Active Change Model creates an understanding of what it takes to become an effective consultant who practices wisdom by making conscious choices in a thoughtful and wholehearted manner, choices that will positively influence the work that is done with all clients.
"At last! A much-needed book primarily and effectively focused on the consultant's continuing quest for personal awareness--both looking deeply for one's true inner self and outward for that self in relation to clients. I do strongly agree with the author's basic thesis that we cannot expect our clients to embrace change unless we personally embrace it ourselves."
--Bob Tannenbaum, emeritus professor of the development of human systems, Anderson Graduate School of Management, UCLA, and recipient of the Lifetime Achievement Award from the National OD Network
See More
Kristine Quade
is an independent consultant, attorney, coach, lecturer, and facilitator in custom-designed large group interactive processes with over two hundred national and international client system interventions.
Renee M. Brown is an international consultant who is an expert on human dynamics, particularly in the areas of personal and organization development, constructive conflict, and creative problem solving.
Editorial Board includes David Bradford, W. Warner Burke, Edith W. Seashore, Robert Tannenbaum, Christopher A. Worley, and Shaolin Zhang
See More
"...very readable" (Modern Management, April 2002) "At last! A much-needed book primarily and effectively focused on the consultant's continuing quest for personal awareness--both looking deeply for one's true inner self and outward for that self in relation to clients. I do strongly agree with the author's basic thesis that we cannot expect our clients to embrace change unless we personally embrace it ourselves." --Bob Tannenbaum, emeritus professor of the development of human systems, Anderson Graduate School of Management, UCLA, and recipient of Life Time Achievement Award from the National OD Network
"Those of us who work with change in organizations need to be self-aware. Quade and Brown provide a highly useful way of helping us to do just that. Their simple but elegant model is the Tao of becoming an effective change agent." --W. Warner Burke, professor of psychology and education, Teachers College, Columbia University, and senior advisor, Pricewaterhouse Coopers
"It's just wonderful! It will help new people in the field become acquainted with the criteria for success, and allow veterans to benchmark their current practices. I'm proud and humbled to be associated with this fine effort." --Ken Hultman
See More
More in this series